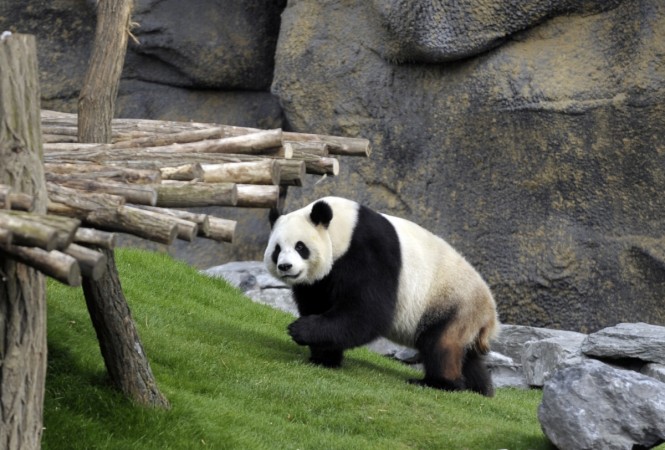 Ai Hin, a female panda living at the Chengdu panda reserve in China, has faked her pregnancy by showing a surge of hormones, moving less and loss of appetite to improve her quality of life.
The keepers at Chengdu Giant Panda Breeding Research Centre were extremely excited with the pregnancy news of the six-year-old Ai Hin since there are only less than 2,000 giant pandas - whose natural habitat is the mountainous south-west regions of China - in the world and they are notoriously difficult to breed.
The birth of Ai Hin's supposed cub and its progress in its early days, from its first cries to acquiring its distinctive black-and-white fur, were due to be broadcast online to panda lovers in China and worldwide. However, within a couple of months since the "pregnancy" was detected, she started acting normal and her pregnancy was chalked out to be a "phantom pregnancy".
Since giant pandas are notoriously reluctant to breed in captivity, pseudo pregnancy or "phantom pregnancy" is quite common among the species.
Wu Kongju, a panda expert, said the breeding centre situated in China's south-western province Sichuan, moves pregnant giant pandas into a single room with air conditioning and provides them round-the-clock care, reported The Guardian.
And sometimes, the most intelligent pandas exhibit certain behaviours that are associated with early stages of pregnancy, so as to receive the preferential treatment. "They also receive more buns, fruits and bamboo, so some clever pandas have used this to their advantage to improve their quality of life."
China has about 1,600 pandas living in the wild and around 300 held in captivity. Female pandas are fertile for only about three days a year and the pregnancy time span is from 80 to 200 days, reports abc.
With only 24 percent of female pandas in captivity giving birth, their reproductive rates are very low and these species is under serious threat.