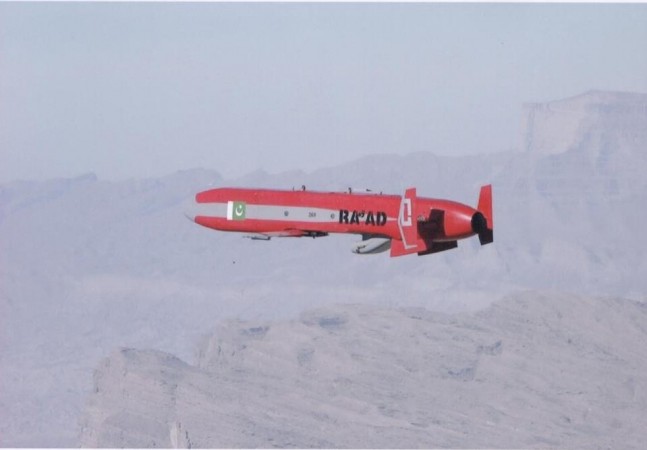 In news that could rattle some nerves on the eastern side of the Pakistani border, Pakistan successfully tested Ra'ad air-launched cruise missile (ALCM) or HatF 8 a couple of days ago.
Pakistan has claimed that this cruise missile had a "successful Flight Test" and the missile was "indigenously developed," according to a statement from Inter-Services Public Relations (ISPR).
The testing of this missile comes after India's successful test of its nuclear-capable canister launch Agni 5 intermediate-range ballistic missile (IRBM), which has a range of more than 5,000 kms.
Ra'ad, meaning 'thunder' in Urdu, is nuclear-capable and is 4.85 m-long with 350 km range. This was the fifth successful testing of the missile and during previous tests, Pakistan used an upgraded Dassault Mirage III ROSE aircraft to launch the missile, reported IHS Janes.
This missile will enable Pakistan to deliver a "strategic standoff capability" on land and at sea, according to its Army. It also said that it was trying to achieve "strategic stability in the region."
Pakistan has already been testing Babur or Hatf 7 cruise missiles, which are ground based missiles. Both Babur and Ra'ad are reported to be subsonic cruise missiles with a speed of 0.8 Mach.
IHS Janes further says that the Ra'ad could be the "extension" of the existing relationship with South Africa's Denel (formerly Kentron) where they joined hands in the development of advanced weapons. It also says that Ra'ad resembles South African MUltiPurpose StandOff Weapon (MUPSOW)/ Torgos.
The positive side of these subsonic missiles is that they have a low radar cross-signature, low-level navigation and use waypoints to enter areas that are well defended, making them hard to detect, said Defense News.
Pakistani missiles are basically designed to counter the ones from its neighbour and arch rival India. India too has been testing a long range subsonic cruise missile called Nirbhay. This missile too works using a turbofan engine and is able to carry conventional or nuclear warhead. This missile will have the capability of being launched from multiple platforms -- land, sea and air. Meanwhile, Nirbhay's range is 1000 kms plus. It was earlier reported that the missile has undergone two successful development trails.
Apart from this, India also has countermeasure against enemy cruise missiles --The Buk surface to air missile (SAM) missile system and Su-30MKI Flanker -- which might be able shoot it down when on patrol with the help of ground radars that might vector it.
India already has inducted supersonic cruise missile with nuclear capability that is able to fly at speed of Mach 2.8 with a range of 290 kms. It has inducted the missile for land and sea-based platforms. In the coming months it will be inducting an air-launched version known as BrahMos-A that will be fitted in Indian Air Force's (IAF) Su-30MKI fighter jets.
India is also gearing up to arm its Sukhoi Su-30MKI and Mirage 2000with a smaller variant of the air-launched BrahMos with the speed of Mach 3.5. The country is also getting ready for the development of a hypersonic Mach 7.0 version that is expected to be tested in 2017.