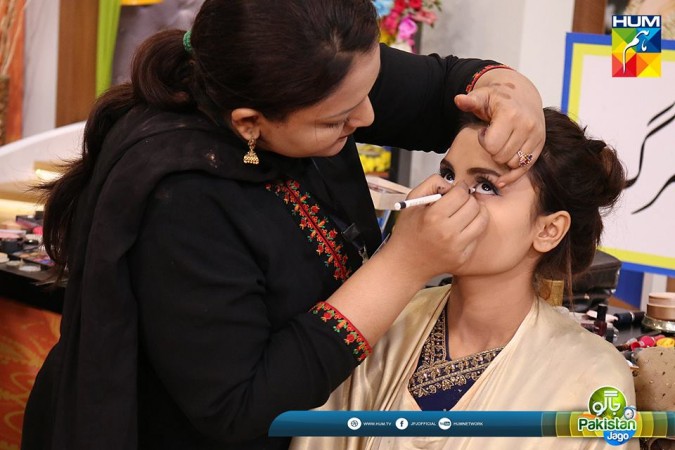 A show on Pakistani channel Hum TV called Jago Pakistan Jago has come under fire after they blackened fair-skinned models to prove that dark-skinned people also look beautiful.
Though the idea of showing dark people as good looking seemed genuine, the execution was flawed thereby inviting the ire of social media users. The TV show tried to showcase how dark-skinned women can be turned into beautiful brides, in what can be understood as an anti-racism initiative, but was slammed on the social media.
Task: Turning dark-skinned models into beautiful brides
It was Day 3 of the show on Hum TV and the hosts told the participants that the competition wll get tougher as they were in advanced stage. And the task that was given is: turning dark-skinned models into beautiful brides.
While the first step involved turning them dark using shades, the second step is making them 'still' look beautiful. It gets even more weird when you learn about the restrictions. The participants can use only one hand for make-up (solidarity with physically challenged?) and the time wasn't enough to finish the job.
When the issue hit the internet, it received severe blacklash. Many opined that the channel could have used dark-skinned models instead of light-skinned ones.
The social media users are commenting on the issue using the tag, 'Pakistan's obsession with fair skin. Check tweets:
Maimunah Khawaja: @SanamJungPK @Humtvnetwork Absolutely appalled with @JagoPakistan_ newest episode where fair skinned models were painted darker to prove that darker skin can too look beautiful with makeup. Was it too difficult to find models of darker skin?!
Sheeba Khan: Lack of sensitivity, depth, & education demonstrated by everyone at @Humtvnetwork @SanamJungPK @JagoPakistan_ . Not everyone feels the need for whitening injections. Shaming dark skin isn't cool. #JagoPakistanJago #SanamJung #HumTV
Farhanaaz Affandi: the internet has the power to be malignant and harsh at times, I hope it is also used to educate and inform. Racism is not okay. Not in the West or the East, not anywhere. It's about time we learned this. #MorningShow #humtv #JagoPakistanJago #blackface #Pakistan
Hamna Zubair: Hey Pakistani producers - blackface is NOT ok.
It's also not ok to say that applying makeup on darkskinned people is SO hard.
a pakistani morning Jago pakistan jago painting light skinned girls with dark foundation to prove it's difficult to make dark skinned girls look good in makeup... pakistan's obsession with fair skin and their treatment towards people of a darker skin complexion is disgusting pic.twitter.com/rcXKqmY9kH

— sosun (@sosunm) March 15, 2018