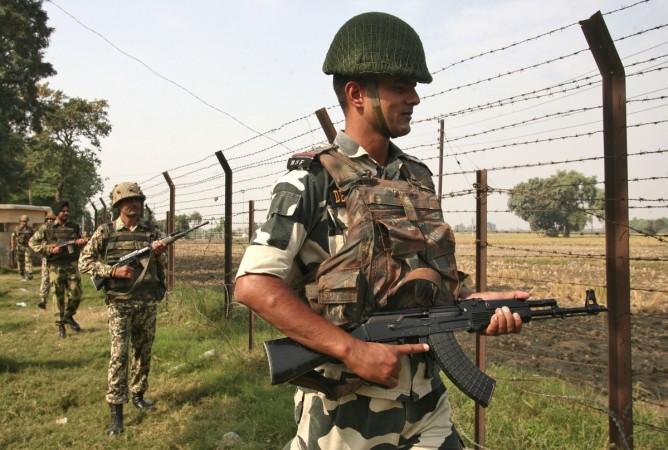 Ceasefire violations were reported along the Line of Control (LOC) from the Poonch sector in Jammu and Kashmir Sunday, perhaps for the first time in almost six months. According to reports, Pakistani troops violated the ceasefire first and the Indian troops retaliated in response.
Relations between the two countries soured after a Pakistani joint investigation team (JIT), which included an Inter-Services Intelligence officer, report dismissed India's claims about the involvement of Jaish-e-Mohammed chief Masood Azhar in the Pathankot attacks. The team's visit, which lasted a week in which they surveyed the Air Force base that was attacked and the border areas from where terrorists are suspected of entering India, was believed to be a reciprocal one. India expected that it would get the opportunity to question Azhar. However, India's demand has been rejected by the Pakistani establishment.
Pakistani troops attacked with mortar fire and automatics around 4.30 a.m. IST and the Indian side responded "appropriately," a Defence public relations officer told ANI. No damage or casualty occurred due to the firing.
The violation is deemed significant as firing along the LOC in the Rajouri-Poonch areas, which was common until October 2015, had ceased after the Brigadier level talks between the two countries following multiple deaths in Pakistan in August last year, the Hindustan Times reported.
In another incident along the border, one alleged Pakistani intruder was killed and nine packets of heroin were confiscated near the Attari border in Punjab. A few hundred kilometers away from Poonch, the incident at the Attari border Sunday occurred after a Border Security Force (BSF) team came upon some infiltrators, ANI reported.
Relations between India and Pakistan had improved late last year after Prime Minister Narendra Modi's impromptu visit to Pakistani Prime Minister Nawaz Sharif on his birthday. However, the terrorist attacks that followed have delayed foreign secretary-level talks indefinitely as the two countries contest over the legitimacy of the attacks. The Pakistani JIT has questioned the veracity of the terrorist attack in Pathankot.
Recently, Pakistan High Commissioner Abdul Basit said that dialogue between the two countries has been suspended and Indian National Investigation Agency wouldn't be allowed to go to Pakistan.