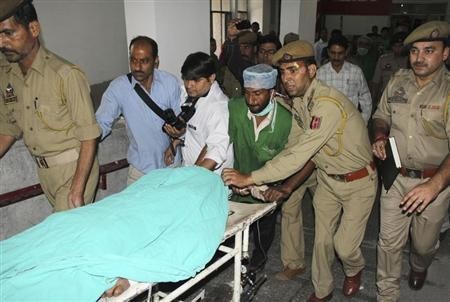 Pakistani prisoner Sanaullah Ranjay, who was assaulted by an inmate at Jammu's Kot Balwal jail last week, died on Thursday (9 April) in a Chandigarh hospital.
A team of three doctors at the Post Graduate Institute of Medical Education and Research (PGIMER) tried their best to revive the Pakistani prisoner who suffered multiple organ failure. After battling for life for nearly a week, Sanaullah passed away at 7 am on Thursday. "The patient was brought in a brain dead condition and died this morning due to multiple organ failure," a hospital spokesman told The Times of India.
Post mortem on his body will be done at a government hospital.
Sanaullah, a convicted terrorist (under TADA) who was serving a life sentence at the Kot Balwal jail, was attacked with bricks on 3 May. He was airlifted to Chandigarh in a critical condition and was in coma since then. His relatives including his brother-in-law Mohammed Sehzaad and nephew Mohammed Asif visited him at the Advanced Trauma Centre of PGIMER on 7 May.
The prisoner's condition worsened on Wednesday and doctors said his condition was "extremely critical".
"The patient has become extremely critical. He has developed renal failure with no urine output since morning. Hence he was put on peritoneal dialysis by Nephrologists. He had developed hypothermia," a medical bulletin issued by the PGIMER said on Wednesday.
The assault on Sanaullah came a day after the death of Indian prisoner Sarabjit Singh, who was brutally attacked by fellow inmates in Lahore's Kot Lakhpat Jail.
Following his death, Pakistan requested the Indian government to return Sanaullah's body. Pakistan has also demanded an impartial international probe into his death.