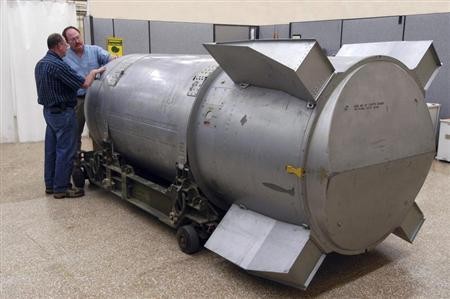 Terror-ridden Pakistan is said to have the fastest growing nuclear programme in the world, which can turn into a major risk to international security, especially for neighbour India.
Pakistan's nuclear cache could expand massively in the next five years to reach up to 200 nuclear devices by 2020, US think-tank Council on Foreign Relations has warned.
Pakistan had about 100-120 nuclear warheads at the beginning of the year, according to data released by the Stockholm International Peace Research Institute earlier this year, behind only China, which has 250, in the region. The United States and Russia lead the nuclear arms race with a stockpile of 7,300 warheads and 8,000 warheads respectively.
However, the new report has identified South Asia as a region "most at risk" from a breakdown in strategic stability due to an "explosive mixture of unresolved territorial disputes, cross-border terrorism, and growing nuclear arsenals".
"Though many states are downsizing their stockpiles, Asia is witnessing a buildup. Pakistan has the fastest-growing nuclear programme in the world. By 2020, it could have a stockpile of fissile material that, if weaponized, could produce as many as 200 nuclear devices," the think-tank said in its report 'Strategic Stability in the Second Nuclear Age'.
The report goes on to name the United States to be the one country to 'lose' the most from a breakdown in strategic stability.
"The United States has more to lose from a breakdown in strategic stability than any other country due to its position as a global leader, the interdependence of its economy, and the network of security commitments it has around the world," author Gregory D. Koblentz, Associate Professor, George Mason University said in the report.
Koblentz has thus called for US and Europe to make Pakistan's growing nuclear stockpile a greater international priority.
However, it is India which seems to be on Pakistan's radar, as the author himself highlighted that Pakistan primarily wants to use its nuclear weapons to deter India.
"Pakistan has not formally declared the conditions under which it would use nuclear weapons but has indicated that it seeks primarily to deter India from threatening its territorial integrity or the ability of its military to defend its territory," the report said.
The report comes at a time when tension between nuclear-armed Russia and America has risen to what some deem as Cold War-like proportions, while Pakistan and India are seeing increasingly hostile relations owing to border conflicts and the Kashmir issue.
What has further muddled the dynamic is the growing military partnership between Russia and Pakistan, even as India is buying more weapons from the US.
Koblentz has urged the Obama administration to "create a forum for the seven established nuclear-armed states to discuss further steps to reduce the risk of deliberate, accidental, or unauthorized use of nuclear weapons."