Just a few days after India successfully test fired Agni-V, a solid fueled Inter-continental Ballistic Missile (ICBM) that is capable of reaching deep into Asia and Europe, its neighbour Pakistan has announced its plan to conduct a long-range missile test over the next few days.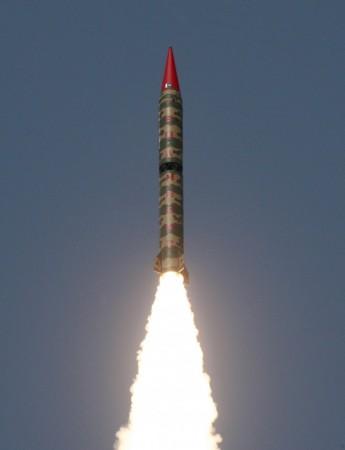 CNN IBN reported that Pakistan has informed India about its plan to conduct a long-range missile test in the Indian Ocean within five days. It also has asked Indian authorities to issue a notice to all commercial airlines to avoid the area where the test will be conducted.
The announcement by Pakistan to test fire a long-range missile came just five days after India test fired its first ICBM. Call it a coincidence but the timing of the test could make many raise the eyebrows as India and Pakistan have border dispute.
India test fired its indigenously built Agni-V with a range of more than 5,000 kilometers (3,100 miles) at Wheeler Island off Odisha coast from Integrated Test Range (ITR) on April 18.
With Agni-V, many claimed that India has joined elite nations that have Inter-continental Ballistic Missile capability. Till date, U.N. Security Council permanent members China, Russia, France, the United States and the United Kingdom have ICBM capability. Israel is also believed to have the capability.
The nuclear warhead-enabled Agni-V is 17 m long, 2 m wide and weighs 50 tonnes, and it can carry a pay-load of 1 tonne. It is an upgraded version of the indigenously built Agni series to be powered by solid rocket propellants. It is the fifth in the Agni series. India had earlier successfully test fired Agni-I (700-km), Agni-II (over 2,000-km), Agni-III (3,500 km- 5,000 km) and Agni-IV (of 2,500-3,500 km).
Sources said that DRDO has a series of plans on defence in the near future. The submarine-launched ballistic missile (SLBM) is expected to be operational by 1013 and a missile shield to combat drones by 2014. It is also working on quick-launch micro satellites and Star Wars-like laser weapons.