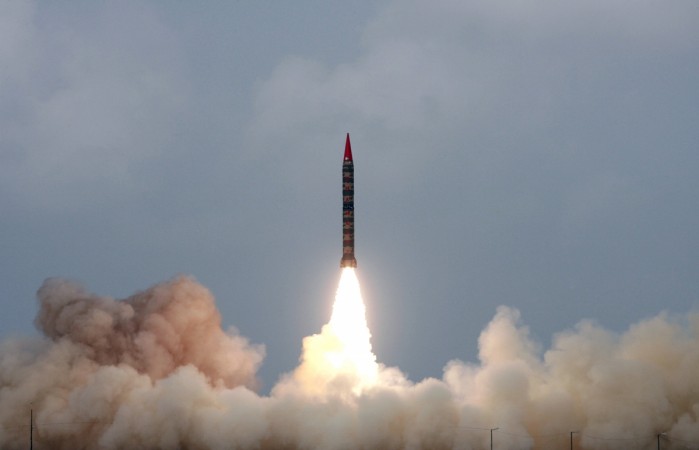 Pakistan on Monday successfully test fired Shaheen-III, a surface-to-surface ballistic missile capable of carrying nuclear and conventional warheads to a range of 2,750 km that includes every part of India and the Middle East, including Israel.
Though a statement issued by Pakistani military said that the test launch of Shaheen-III was "aimed at validating various design and technical parameters of the weapon system at maximum range," some analysts view it as "an outlet for the military to vent frustrations," The Sydney Morning Herald reported.
They were of the opinion because of the time Pakistan chose to test fire the missile, which is within a week of Indian foreign secretary Subrahmanyam Jaishankar's visit to Pakistan.
Jaishankar's visit was the first after India called off secretary level talks with Pakistan last year after the diplomats met Hurriyat leaders despite India warning against it.
The third missile in the series is much more capable than the indigenously produced Shaheen-I and Shaheen-II missiles and can be fired from mobile launchers, making it harder for the targets to spot it.
A strategic studies and nuclear expert at Quaid-i-Azam University in Islamabad Mansoor Ahmed said that "Pakistan's nuclear ambitions are focused solely on India". Explaining it further, Ahmed said that Pakistan's military does not want a "tit-for-tat" battle with India in terms of nuke weapons, it is rather interested in enhancing its arms and improving "existing capabilities".
Ahmed also shared his suspicions that Pakistani scientists and engineers are looking at ways to make Shaheen capable of carrying multiple warheads, which will then make it difficult for the target countries to defend themselves.
With the enhanced arms and weapons, Pakistan seems to be setting its foot ahead of India as it is already spearheading the race of possession of number of nuclear weapons. According to new infographic released by the Bulletin of the Atomic Scientists, Pakistan had 120 atomic weapons, 10 more than India as of last year's reports, IANS reported.