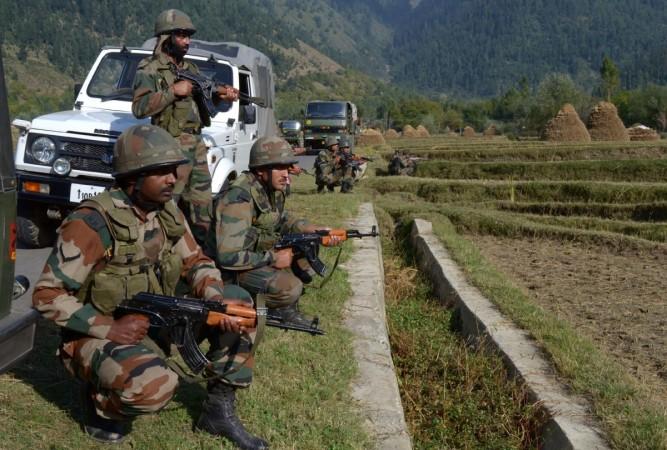 A Pakistani editorial blamed Indian Prime Minister Narendra Modi for the recent ceasefire volations. This comes after Pakistan resumed firing along the Line of Control in Poonch district of Jammu & Kashmir on Saturday.
The editorial remarked that Modi is abandoning his "peace" agenda, and showing his "true colours."
The verbal attack on the Indian PM by the Pakistan-based The News International came a day after a fresh ceasefire violation on Saturday night at Kitni region in Poonch district.
After a peaceful Friday night along the border, Pakistani side targeted the Indian side of the LoC using mortar shells that continued overnight and spread across 15 border outposts and civilian areas along the International Border in Arina and RS Pura districts, according to IBNLive report.
"Pakistani Rangers resorted to sniper firing in Nikowal and Bhudwar BoPs in Arnia belt and then fired at Tent Gaurd post around 2030 hours last night. Later, they opened fire on Pittal, Pindi Charkan, Kake-de-Kothe, Chinaz, Nowa Pind and Jogna Chak BoPs. Pakistani troops also fired dozens of mortar shells in Kodwal, Pindi, Sahugh villages before dawn and the firing ended around 0700 hours today," according to Zee News report.
The Indian army retaliated to Pakistan's unprovoked firing, resulting in overnight cross firing along Indo-Pak border that continued until 7am on Sunday. In the firing, two BSF soldiers — Head Constable Sumit and Constable Vaishnov Dutt — have suffered minor injuries along with two civilians — Rani Devi, 43, and Raishu, 22, who have been hospitalised, officials said.
'The lion's share of the blame...lies with Modi'
While the border skirmish continued for the third time in the past 48 hours, The News International blamed India for the ceasefire violations. It claimed that Pakistan lost at least 20 civilians in the cross-fire that was allegedly provoked by the Indian side.
"India is trying to have it both ways in the conflict it has provoked across the Line of Control. If Pakistan does not respond to the firing, India claims that it has successfully scared us into submission but if we do return fire then we are accused of escalating the problem," it said.
The editorial mentioned, while Pakistan's Prime Minister Nawaz Sharif is trying to mend the relations between both nations, Indian PM Modi is making no efforts and instead calls his neighbour an "enemy," openly in an election rally.
"After a meeting of the National Security Council he said that war with India was not an option. While reserving the right to respond to Indian aggression, Nawaz tried to dampen tensions by reiterating his commitment to improving relations with India," the editorial said.
"Modi's initial forays towards peace, soon after he was elected, have now been completely abandoned and he is showing his true colours," it added
"The lion's share of the blame, needless to say, lies with Modi. It is he who has demonised Pakistan throughout his political career and his anti-Pakistan sentiment could have contributed to the needless escalation of firing across the LoC. Where Pakistan has urged calm, Modi has responded with bluster," it said, adding that Kashmir issue seems to persist for long as "a thorn between the two nations," preventing both from settling disputes.