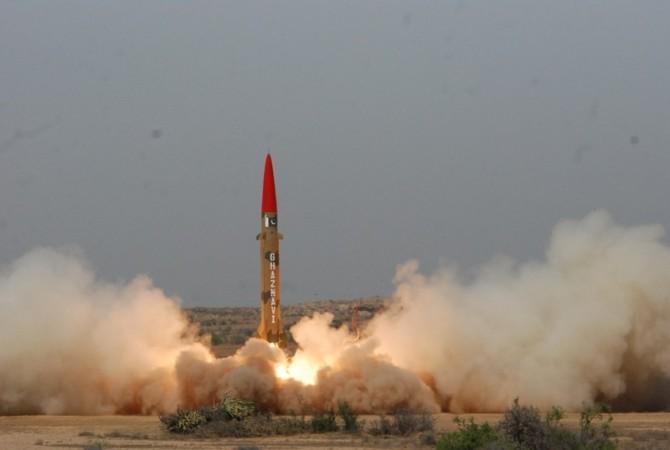 Pakistan military has announced in a statement that it had successfully carried out a training launch of Short Range Ballistic Missile Hatf III (Ghaznavi) on Thursday, at the conclusion of the annual field training exercise of Army Strategic Force Command.
According to the note issued by the Inter-Services Public Relations (ISPR) the indigenous Hatf III missile is capable of carrying nuclear and conventional warheads to a range of 290 kilometers.
The Hatf III was the second nuclear-capable missile test-fired by the Pakistan army in less than two weeks, since India's launch of Agni-V, a solid fueled Inter-continental Ballistic Missile (ICBM), in April.
The exercise was aimed at testing the operational readiness of a Strategic Missile Group, said the Pakistan army.
The field exercise of the ASFC was carried out before Chairman Joint Chiefs of Staff Committee General, Director General Strategic Plans Division Lieutenant General Khalid Ahmed Kidwai (R), Commander Army Strategic Force Command Lieutenant General Tariq Nadeem Gilani, Commander Karachi Corps Lieutenant General Muhammad Ijaz Chaudhry, Chairman NESCOM Mr Muhammad Irfan Burney, and other senior military officials and scientists.
"The nation had developed a strong nuclear deterrence capability and expected that the officers and men entrusted with the task of deterring aggression would continue to train hard and maintain professional excellence," said Khalid Shameem Wynne, while addressing the troops in the exercise area.
He further added that the Pakistan's Armed Forces are fully capable of safeguarding Pakistan's security against aggression, appreciating the troops on displaying a high standard of proficiency in handling and operating the state of the art weapon system.
Pakistan Prime Minister Yousuf Raza Gilani and President Asif Ali Zardari have also congratulated the participating ASFC troops, the scientists and the engineers on their outstanding success.
Just few days after successful missile-test by its long-time adversary (India), Pakistan launched Hatf IV Shaheen-1A, an indigenously developed intermediate Range Ballistic Missile on April 25.
The series of missile tests by Pakistan is touted as repose to the nuclear-armed archenemy, India, with whom it has fought at least three times between 1947 and 1971.
Pakistan currently possesses between 30 and 70 nuclear warheads, as well as short- and medium-range ballistic missiles.
In addition, it is currently developing nuclear-capable Ghauri-3 intermediate-range missiles, which are designed for long-range strikes against civilian and military targets deep inside India, said a report posted by Missilethreat.com.
Pakistan's all-weather friend China has been helping in its nuclear proliferations with missile and nuclear technology for decades now.