Pakistan's opposition leader Imran Khan has demanded the resignation of Prime Minister Nawaz Sharif and also warned of invading the high security Red Zone of Islamabad on Sunday, if the PM refuses to step down.
Pressing his demands, Pakistan Tehreek-e-Insaf (PTI) chairman Khan stated on Saturday that his party's supporters would continue to protest until Sharif steps down and his party Pakistan Muslim League (N) (PML-N) relinquishes power.
Khan warned that his supporters will enter the Red Zone, where government offices and embassies are located and will stage protest in front of Parliament, if their demands are not met by tonight.
"Don't blame me if I failed to control these people (from entering high security area). I can control them until tomorrow (Sunday) night," NDTV quoted Khan as saying.
The protests and demand for Sharif's resignation followed Khan's allegations that the Sharif government is corrupt and the 2013 election - in which PML-N came back to power again - was rigged, which Sharif has denied.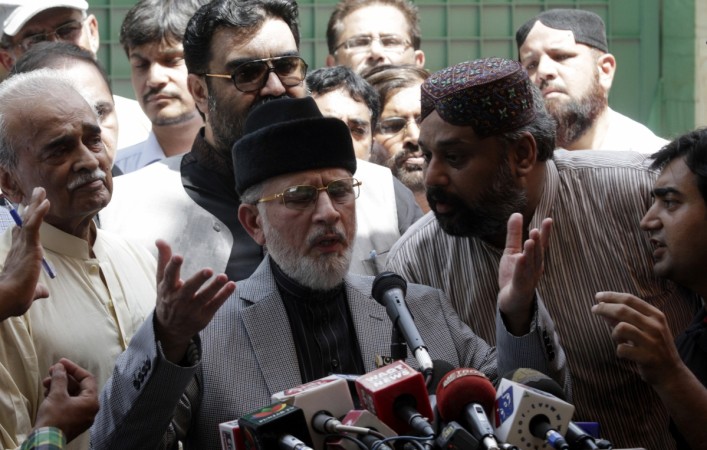 Another party - Pakistan Awami Tehreek's (PAT), which also carried out a separate protest rally from Lahore to Islamabad raising similar demands, also gave an ultimatum to Sharif's government.
Giving the PM 48 hours' time, party leader Muhammad Tahirul Qadri on Saturday asked Sharif to resign and dissolve his party.
Qadri also demanded the immediate arrest of Sharif and his brother, and Chief Minister of Punjab Province, Shahbaz Sharif for the alleged "murder" of 10 PAT workers during a clash with the police in Lahore.
Responding to the ultimatum received from the two opposition parties, information minister Pervaiz Rashid said that Khan and Qadri "are giving deadline to democracy in the country and not the government".
Commenting on the situation in Pakistan, analyst Hasan Askari said that the apparent disputes between the ruling party and the protesting leaders would pave the way for military influence in the country.
"If political leaders fail to resolve this problem and violence starts then the initiative will shift to the military – either to mediate the problem and see to it that the stalemate is resolved. This will further increase the military's clout in Pakistan," The Times of India quoted Askari.