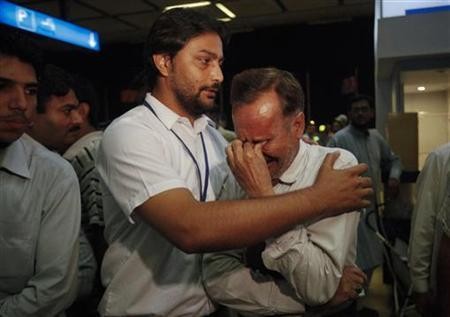 A Pakistani passenger aircraft on the way to the Islamabad international airport form Karachi with 127 onboard busted into flames while making an emergency landing due to a bad weather.
The Boeing 737, operated by local airline Bhoja Air, rammed into a wheat field near a village on the suburbs of Islamabad, about 9 km from the airport. The magnitude of the crash leaves no possibility of survivors.
"It was as if the entire sky had burst into flames," said a resident of the area.
However, the rescue operations are going on. So far the rescue officials have collected as many as 110 bodies from the wreckage of ill-fated crashed aircraft. The local people have also joined the search operation to help the authorities in find the passengers' remains. The lighting facility was done in the accident spot to carry out the search operation in the night.
Rawal Khan Maitla, director general of Emergency Disaster Management for the Capital Development Authority, said there were no survivors.
The government has no word on whether air mishap was due to any foul play. The initial reports, however, have indicated the bad weather for this tragedy.
Meanwhile, the TV channels in Pakistan have reported the recovery of the black box of crashed passenger plane. However, there was no official confirmation on the speculation.
A man who had been waiting at Islamabad's Benazir Bhutto International Airport for the flight yelled "my two daughters are dead" as tears streamed down his face.
In a state of shock, he then slumped on the floor and sat silently as other relatives of passengers crowded around lists of those on board.
The uncle of the sisters, 18 and 20, said they were supposed to return to Islamabad on Sunday but flew early to see an aunt who is visiting from London.
"We don't even know when or where we will get to see their bodies," said the uncle, Qamar Abbas, who kept mumbling "no, no, no" to himself.
(With inputs from Reuters)