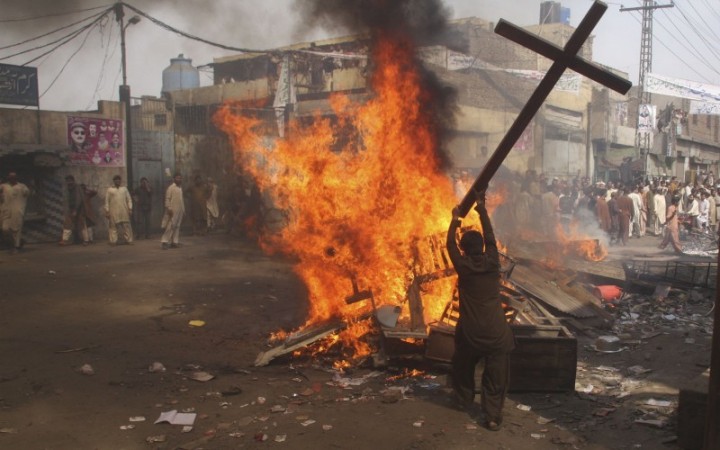 The Pakistani city of Karachi, which has seen a spate of violence against minority Christians in recent months, will soon be home to Asia's largest "bulletproof" cross.
Karachi-based businessman Parvez Henry Gill, who claims that God came in his dream and inspired him to construct the cross so as to protect the persecuted Christians of Pakistan.
"I am going to build a big cross, higher than any in the world, in a Muslim country," Gill, a lifelong Christian, told The Washington Post.
"It will be a symbol of God, and everybody who sees this will be worry-free," he added. The 58-year old Pakistani businessman has erected the structure right in the heart of the city, where 90 percent of the population consists of Muslim.
Built near Karachi's largest Christian cemetery, towering over thousands of tombstones that are often desecrated by vandals, Gill hopes it gives strength to the persecuted Christian community in Karachi.
The 14-storey cross, Gill said, will constantly remind the Christians in Karachi that one day they will be able to live peacefully. "I want Christian people to see it and decide to stay here," said Gill, who started the project about a year ago.
Anticipating violent attacks on the Christian structure, Gill revealed that he told workers to use "tons of Iron, steel and cement" to make it "bulletproof". The cross has a 20 feet-base that makes it difficult for anyone to tear it down.
#Christian #Pakistani Parvez Henry Gill is building a 140-foot #Asia's largest cross at the Gora Qabristan Cemetery pic.twitter.com/BGMfYgiIv5

— Mete Sohtaoğlu (@metesohtaoglu) May 24, 2015
Christians constitute a mere 1.6 percent of the population in Pakistan and the minorities in the largely Muslim country have been subjected to violence and constant harassment. Several hundreds of Christians have been persecuted under Pakistan's blasphemy laws, with many being sentenced to death.
Taliban militants, who want to establish a Sharia kingdom in Pakistan, have repeatedly attacked Christian churches and homes. In March, this year, Taliban suicide bombers attacked a Christian community in Lahore, killing 14 people.
The CNN report noted that in the attack, the Pakistani Taliban militants wounded at least 78 people.