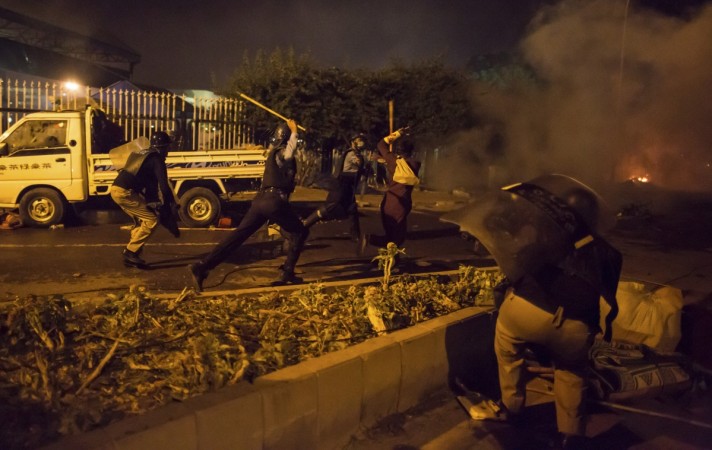 4 pm: The meeting between Prime Minister Nawaz Sharif and Army Chief General Raheel Sharif has concluded, according to Dawn News. Speculations about Sharif being asked to leave office have been termed as 'false' by government officials and the Army.
3: 30 pm: Opposition leaders Imran Khan and Tahir ul-Qadri have been booked on charges of 'Terrorism', and an FIR has been filed against the two leaders in the Secretariat Police Station.
2:00 pm: The Pakistani Supreme Court has offered to act as a mediator between the government and the Pakistan Tehreek-e-Insaf (PTI) and the Pakistan Awami T ehreek (PAT), Dawn News reported.
The apex court has given the counsels of PTI and PAT an hour's time to discuss the offer with the leadership of the two parties.
1:00 pm: Pakistan Army Chief General Raheel Sharif will meet Prime Minister Nawaz Sharif to discuss the situation, according to Dawn News. Protestors have reached PM's official residence in Islamabad.
12: 45 pm : Pak Army has reportedly secured the office of the Pakistan Television (PTV) network, as Qadri asked protestors to heed the army's instructions.
Protestors had seized the office of the state-owned television channel and stopped transmissions. The Army is said to have restored transmission.
The political crisis in Pakistan's capital continued to deepen on Monday, as anti-government protestors broke into the Secretariat despite clashes between demonstrators and police turning violent over the weekend leaving three dead and hundreds injured.
Reports suggested that the Pakistani Army has now taken over security in the capital.
While protestors clashed with police over the weekend as they barged through barricades towards the PM's house, the Army is now reported to have created a barricade in a bid to stop protesters from storming the ministries inside Parliament house.
Pakistani cleric Tahir ul-Qadria claimed that his supporters have taken over the Prime Minister's official residence in Islamabad on Monday, and said that Sharif, who is belived to have left his official residence to shift to Lahore, will not be able to enter his official residence.
Protestors also ransacked offices of the Pakistan Television (PTV) news channel thus stopping transmissions.
The protests come just a day after the Army called for peaceful resolution and said it would "play its part in ensuring security in the state."