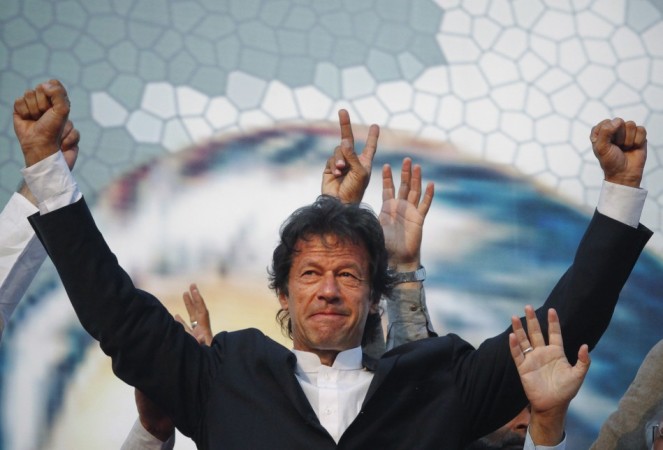 Pakistan Tehreek-e-Insaf (PTI) chief Imran Khan and 40 other party workers were arrested by police on Thursday ahead of the party's planned protests against Prime Minister Nawaz Sharif in Islamabad. Khan has planned countrywide protests to seek Sharif's resignation over corruption allegations.
According to reports, police surrounded the PTI chief's house in Islamabad and also of Awami Muslim League (Pakistan) chief Shaikh Rasheed Ahmad in Rawalpindi to thwart the planned protests on November 2. Awami Muslim League (Pakistan) is supporting the protests and is an ally of PTI.
On Thursday, Pakistan's Supreme Court had issued a notice to the Pakistan PM in Panama Papers leak case. After the Panama Papers leak, several petitions, including one from Khan, were filed in the court seeking Sharif's disqualification from the prime ministerial position over alleged corruption.
Sharif and his family members have been accused of illegally possessing assets abroad. The Panama Papers leak showed Sharif and his family owning properties in the United Kingdom. It is also alleged that Sharif's three children were owners of offshore firms and also "had the right to authorise transactions for several companies."
Local authorities issued an order late on Thursday restricting public gatherings ahead of the protests. "We told the government that we would remain peaceful if they had remained peaceful. Now the movement will take a different direction," Khan was quoted as saying by Dawn.
A spokesperson for PTI, Anila Khawaja, said that party workers were detained from a youth meeting in Islamabad's E-11 district. "All of a sudden police arrived and started arresting people," Anila added.
Reports state that police have filed two First Information Reports (FIRs) against the party workers. "For any convention, you need to seek permission from the district administration, even if it is indoors," a district administration spokesperson said.
The officials said that the gathering planned by PTI party workers on November 8 was illegal as they planned to block roads, shut down schools, public office and even the international airport.