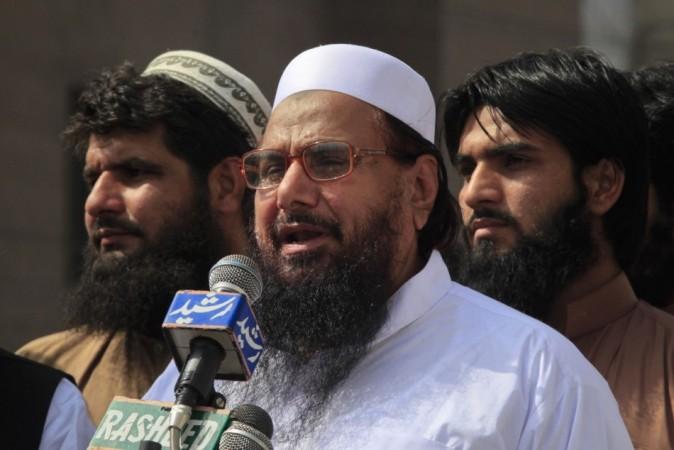 The Pakistan government freed seven Taliban detainees on Saturday after a belligerent Hafiz Saeed denounced India as a 'terrorist state' at a mass rally in Islamabad on Friday and praised the Afghan militant group.
The government's move to free the detainees angered Kabul authorities by not handing the militants directly to them.
The Pakistan Foreign Ministry told Dawn that the move was to facilitate the Afghan reconciliation process.
Afghan President Hamid Karzai visited Pakistan last month and sought the handover of some Afghan insurgents. But on Saturday, the Taliban detainees were freed and allowed to go to Pakistan.
The move came after Hafiz Saeed rallied to mark Pakistan's Defence Day in Islamabad on Friday and supported the Afghan militant group for their fight against Western forces. It was second time in a month that the founder of militant group Lashker-e-Toiba Saeed appeared openly amongst his supporters in Pakistan and denounced India as a 'terrorist state'. .
He is accused of masterminding the 2008 Mumbai attack, in which 166 people were killed by terrorists in three days. India has repeatedly called for the Pakistani leadership to bring him to justice. Moreover, the United States announced a bounty of $10 million on him. He continues to roam around freely in Pakistan despite international pressure.
While speaking about Indian prisoner Sarabjit Singh who died in a Pakistani jail this year, Saeed said, "He was a terrorist. How can the Indian government give state honours to a terrorist? This means the Indian government and army are terrorists."
Indo-Pak relations experienced a new low last month when five Indian soldiers were killed in cross-border firing along the Line of Control in Poonch sector of Jammu and Kashmir.
"India should stop describing Kashmir as its indispensable part otherwise every part of India would be dispensable for us," said Saeed.
The Friday rally was also attended by former ISI chief Hamid Gul. "They (Indian government) should know there are a lot of people here who are waiting for the conquest of India. It will be our privilege to take part in this war," Gul said.
Two men at the rally even threatened to launch a 26/11 Mumbai attack on the whole country while performing a song.