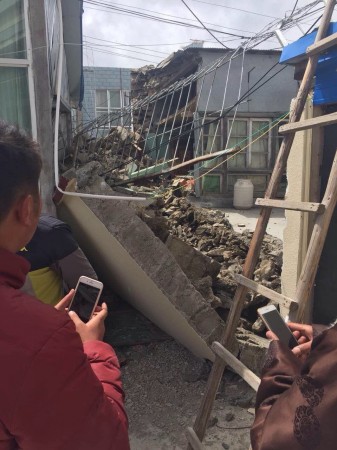 Four Pakistan Air Force aircrafts carrying rescue and relief aid would be flown to the quake-hit Himalayan country of Nepal, media reported on Sunday.
"Four C-130 aircrafts carrying a 30-bed hospital, special search and rescue teams and relief items will be dispatched to Nepal on Sunday," the Inter-Services Public Relations (ISPR) said.
Prime Minister Nawaz Sharif offered the humanitarian assistance over a telephonic conversation with his Nepalese counterpart Sushil Koirala, Dawn online reported.
The 30-bed hospital comprises of a team of Pakistan Army specialist doctors, including surgical, medical, orthopaedic, gynaecologist, anaesthesiologist, child specialist, radiologist and paramedics.
An urban search and rescue team of Pakistan Army which is highly specialised in rescue operations during natural disasters is also being sent.
The search and rescue team is equipped with ground penetrating radars and concrete cutter. The team is specially trained to search people trapped in rubble.
A massive 7.9-magnitude quake, followed by a second 7.0-magnitude quake, that hit Nepal on Saturday, left over 1,800 people dead.
The quake had its epicentre in Lamjung district, around 75 km northwest of capital Kathmandu.
The tremors also jolted Tibet, India, Bangladesh and Pakistan.