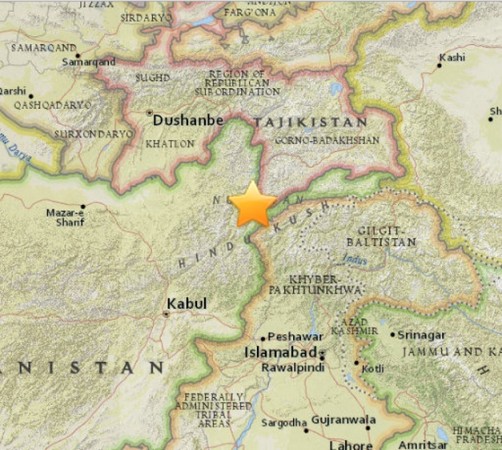 A 5.5 magnitude earthquake shook northern regions of Pakistan and parts of Afghanistan early on Tuesday, as Muslims were preparing for their Sehri meal before their Ramzan fast.
No casualties have been reported as yet.
The epicentre of the earthquake was in Afghanistan, 22km west of Ashkasham, according to the US Geological Survey.
Tremors were felt in Peshawar, Mingora, Abbottabad, and even Islamabad, The Express Tribune reported.
Several Pakistanis took to Twitter to share their concern and stated they felt tremors just ahead of their meal before the roza (fast).
However, there were several Twitterati who blamed the earthquake on those 'liberals' who supported the recent ruling by the US Supreme Court legalising same-sex marriages in the country.
The Twitter posts particularly targeted those people who had recently used the rainbow-themed app to change their display pictures on Facebook.
Here are some of those posts -
Gay Marriage has been legalised in some other country and we're shaken with #earthquake in Pakistan perhaps a sign for Liberals from ALLAH - ☪ Pakistan - Wake-UP ‏@NewPakistan2020

This Earthquake is an alarm from Allah, don't take it easy. If our desi liberals will support homosexuality, to zalzaly hi aayengy hum pa - Pervaiz Khattak ‏@CMPervaiz

Earth Quake in Pakistan !! Wake up Call for desi Liberals supporting Gay Marriages with Rainbow wali DP's !!! - IQ ‏@Saeen_Iqra

#earthquake in various cities of Pakistan. Rainbow DPs walo! Sudhar jao. - Gumshuda Life..! ‏@Rabeel_Tariq

Aur lagao rainbow dps for #LoveWins kuttay ke bacho. Aur kero Pakistan se support. Aa gaya na earthquake islamabad mein - ادل ‏@aurAdil

Wow. Gay marriages legalized in USA and we get 'Allah ka azaab' in Pakistan. :)))) #Earthquake - @kashafasim