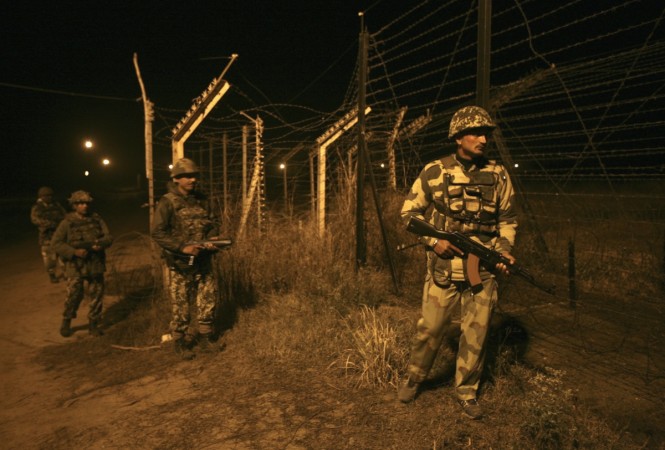 In the latest incident of firing by Pakistani troops across the border, two civilians were killed and seven others injured when the Pakistan Rangers opened a heavy round of fire in the wee hours of Saturday on 22 Border Security Forces posts in RS Pura sector in Jammu district.
The violation occurred along the International Border that left a father and his son dead, while other members of the same family who lived in one of the villages in the RS Pura sector were injured. Pakistan troops used long-range mortar shells and heavy-to-medium machine guns, and reports suggested they intentionally targeted villages.
According to reports, the boy killed was 8 years old, while three other children were also injured.
While Pakistan have violated ceasefire on multiple occasions in the last few months, even killing Indian jawans, this is the first time in the recent past that civilians near the border have fallen victim to the cross-border firing.
Indian troops retaliated with "equal measure," BSF officials said, as the firing continued on Saturday morning.
"The firing started around midnight. 22 posts and several civilian villages were targeted so we retaliated in equal measure. Several houses have been damaged. Firing is still on in some areas," BSF Inspector General Rakesh Kumar told NDTV.
This incident could severely impact peace talks and relations between the two neighbours, and it comes just days after the Narendra Modi government had called off talks with Pakistan, as its envoy had engaged with Kashmir separatists.
Only last week, Prime Minister Modi, in his maiden visit to Leh, had said that Pakistan had lost the strength to fight a conventional war with India and that it was engaging in a "proxy war of terrorism".
Following Saturday's firing, BJP Vice-President Mukthar Abbas Naqvi told NDTV, "This is going to prove expensive for Pakistan."
This fresh firing brings to light the hostile conditions in which Indian civilians along the border live.
"Over the last few days, there has practically been no ceasefire. We have to remain holed up inside our houses or bunkers. No one helps us," a villager told NDTV.
Around 500 families on Friday had migrated out of several villages in RS Pura sector, fearing firing from Pakistan Rangers, and had taken shelter in two government high school buildings, according to India Today.