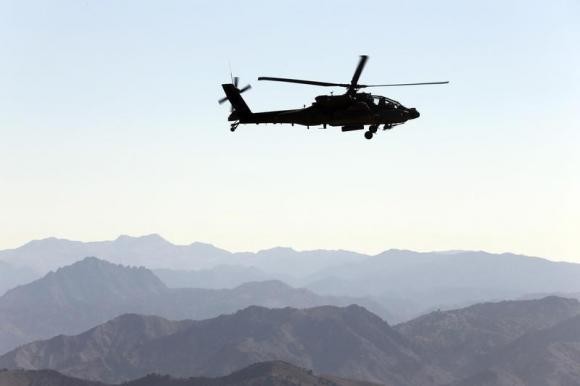 A Pakistan Army helicopter crashed into a school in the Gilgit-Baltistan region on Friday, killing seven people, including two foreign envoys.
Ambassadors of Philippines and Norway were killed in the accident, according to the army's Inter-Services Public Relations spokesperson.
The Pakistani wing of the Taliban terror group has reportedly claimed that it shot down the chopper.
However, the Pakistan Army has dismissed the claim, stating that a technical fault led to the crash.
LIVE:
4.56 pm (IST): Pakistan Prime Minister Nawaz Sharif has declared a day of mourning for those who were killed in the crash.
4.30 pm (IST): The death toll from the helicopter crash has risen to seven.
3. 48 pm (IST): The Pakistan Army has denied the Taliban's claim of 'shooting down' the helicopter.
Director-General Inter-Services Public Relations (ISPR) Major-General Asim Bajwa told Dawn News that the helicopter crashed due to a technical fault. He ruled out any terrorism angle in the crash, but said that a probe has been ordered to investigate what led to the crash.
"Accident cause-As per initial info,2 heli landed safely while 3rd developed tech fault while landing (sic)," Bajwa tweeted.
3.16 pm (IST): Pakistan Prime Minsiter Nawaz Sharif was reportedly travelling to Gilgit in a separate aircraft, and returned to Islamabad following the crash. He was reportedly the target of the Taliban's attack, its spokesperson has claimed.
3.15 pm (IST): The school building that was damaged is said to have had several students inside at the time of the crash. No injuries have been reported among students yet. Images showed fire in the school building.
2.58 pm (IST): The Tehreek-e-Taliban claimed to have shot down the Pakistan Army helicopter that killed four envoys and two others on Friday, according to The Express Tribune.
The Pakistani newspaper quoted TTP spokesperson Muhammad Khorasani saying that Pakistan Prime Minister Nawaz Sharif was the target for the group.
A convoy of three helicopters were carrying foreign envoys to Gilgit-Baltistan when one of the helicopters crashed. The two pilots of the helicopter were also killed.
Others who were killed were the wives of the Malaysian and Indonesian ambassadors, according to reports.
"One MI-17 heli out of 3 carrying visitors had a crash landing at Naltar.Total 11 foreigners and 6 Pakistani passengers on board (sic)," ISPR spokesperson Asim Bajwa tweeted.
Update Naltar:2 pilots,4 foreigners fatalities.(Ambs Philippine, Norway,wives of Malaysian& Indonesian Ambs).Injured-Polish&Dutch Ambs-5

— AsimBajwaISPR (@AsimBajwaISPR) May 8, 2015
Update Naltar:Info so far; 2 Pilots& 2-3 foreigners fatalities.13 survivors with varying degree of injuries.Update, more info to follow-4 — AsimBajwaISPR (@AsimBajwaISPR) May 8, 2015