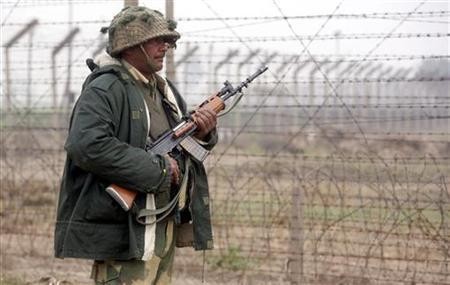 Pakistani intelligence agency ISI has reportedly rewarded ₹5 lakh to the terrorist who beheaded Indian soldier Lance Naik Hemraj Singh earlier this month.
The mutilated bodies of two Indian soldiers - Lance Naik Hemraj Singh and Lance Naik Sudhakar Singh - were found in Mendhar sector of the Jammu and Kashmir state following an intense cross-border firing on Jan 8.
Pakistan had denied any role in the brutal incident which almost derailed the peace talks between the two countries. A Military Intelligence (MI) report accessed by the Times of India, dismissed Pakistan's claims saying that the ISI masterminded the killings.
According to the report, ISI subedar Jabbar Khan, belonging to a unit in Pakistan-administered Tattapani, led the15-member team from terror outfits Lashkar-e-Taiba (LeT) and Jaish-e-Mohammed (JeM) in carrying out the operation.
The report said that beheading of the Indian soldier was done by Anwar Khan, who runs a shop in Barmoch Gali in PoK. Colonel Siddiqui of ISI reportedly rewarded him ₹5 lakh for the act. Anwar Khan was also responsible for beheading an Indian Army captain in KG Brigade in the same Mendhar area in 1996.
Senior ISI officers had a meeting with terrorist commanders and several guides familiar with the topography of the area a few days before the attack, said the report.
"During the meeting, it was decided that local guides aware of the topography of the area would facilitate terrorist groups not only in infiltration along the LoC in Poonch district but also assist in operations by BATs (Border Action Teams). For this a reward of Rs 5,000 for planting of a mine on Indian soil, Rs 10,000 for killing an Indian Army soldier in sniper fire and Rs 5 lakh for beheading an Army jawan was announced. For each of these BAT operations, the guide would be rewarded Rs 2,000 to Rs 12,000," said the report published by TOI.
The brutal incident almost pushed the peace talk between the India and Pakistan off the track.
Pakistan Foreign Minister Hina Rabbani Khar and the country's High Commissioner to India Salman Bashir had offered minister-level talks to defuse the tension but India had not given the nod yet. After a recent Cabinet Committee on Security (CCS) meeting, it was decided that India will not respond to Khar's offer and that talks could be held at a much lower official level.
Congress party president Sonia Gandhi had talked tough on Pakistan's talk offer saying that dialogue between the countries should be based on "accepted principles of civilised behaviour."