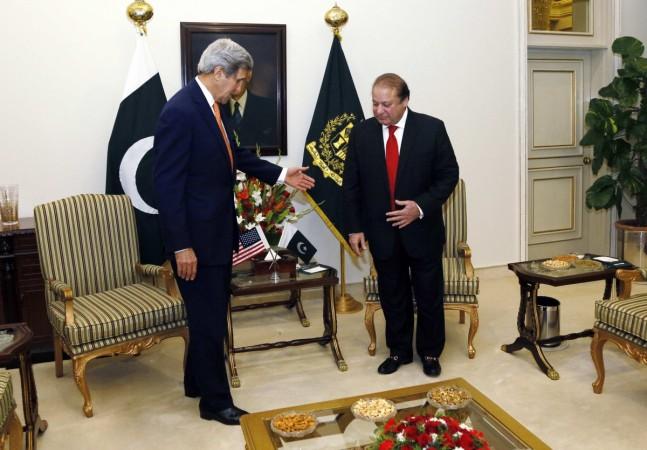 Pakistani Prime Minister Nawaz Sharif will take up India's "subversive activities across Pakistan" in talks with US Secretary of State John Kerry, who arrived in Pakistan on Monday on a two-day visit, according to Pak media reports.
The Dawn newspaper reported that talks between Kerry and Sharif will focus on sharing of intelligence reports and "evidence" of India's involvement in "terrorism" activities across Pakistan, citing "highly placed military sources."
"The evidence is alleged to credibly identify financial support, training and provision of weapons to militants," the newspaper said, citing the unnamed source.
The US Secretary, who arrived in Islamabad after visiting India, is expected to meet Pakistan's political and military leadership and discuss bilateral relations and regional security.
Kerry's visit comes almost a month after the deadly massacre in Peshawar Army School that killed 150 people, most of them children – an incident that prompted intense military offensive against the Taliban militants.
Immediately after the attack, anti-India sentiments were running high with many factions of the Pakistani social media coming up with the conspiracy theory that Indian agencies were involved in the massacre. Even high profile leaders such as former Pakistan president Pervez Musharraf had blamed India for the dastardly Taliban attack.
"Do you know who is Maulana Fazlullah? He is the Tehreek-e-Taliban Pakistan commander. He is in Afghanistan. And I am reasonably sure that he was supported by former Karzai government and RAW to carry out terror attacks in Pakistan," Musharraf told Indian channel CNN-IBN during that time.
Meanwhile, reports suggest Kerry's talks with Pakistani leaders will focus on the country's anti-terror operations.
"Part of the secretary's core message will be to ensure that actions are met with a real and sustained effort to constrain the ability of the Haqqani network, Lashkar-e-Taiba, the Afghan Taliban, and other militants who pose a threat to regional stability and to direct U.S. interests," the New York Times quoted a senior State Department official.