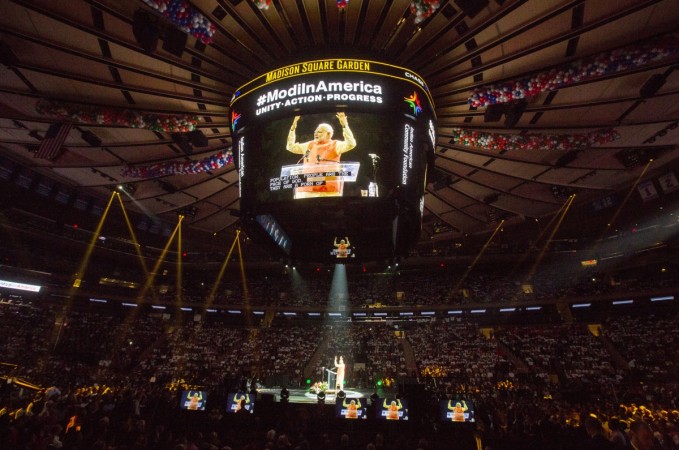 The re-telecast of Prime Minister Narendra Modi's Madison Square Garden (MSG) speech as an advertisement in a Marathi news channel has created a controversy in Maharashtra, where Congress has approached the Election Commission calling the re-runs 'paid news'.
Accusing BJP of using last month's sell-out MSG address to grab votes, Maharashtra Pradesh Congress Committee (MPCC) has filed a complaint against BJP. "Our complaint is based on the argument that a repeat telecast of Prime Minister's speech on TV is a clear case of paid news, no different from buying space in newspapers," Hindustan Times quoted a Congress leader as saying.
They claimed that since Modi's MSG speech was part of his New York's official visit, they cannot use the content for election campaigning.
"He had gone to the US as the country's PM. Modi didn't go to the US as a BJP leader. They should not have used the speech for the election campaign. The PM's office is an institution and he has the same responsibility as us in maintaining the dignity of the PM's office. He has reduced the prestige of the PM's post," The Economic Times quoted Nationalist Congress Party chief Sharad Pawar as saying.
However, BJP does not hold the same opinion regarding Madison Square speech being aired as advertisements on local news channels in Maharashtra, as it claims the speech was a private event and not a government-organised official programme.
"Madison square speech was made at a private event. It wasn't a national or an official programme. We don't need any lessons on morality from the Congress," BJP spokesperson Madhav Bhandari said.
"We are not airing US President Barrack Obama meeting Modi; we are airing the Madison Square speech which was a private programme. We are paying the channels for its use as an advertisement, they can complain to the EC if they feel strongly about it," Maharashtra BJP spokesperson Keshav Upadhye said.
Disagreeing with their explanation on MSG speech—calling it a private programme—Congress wrote to EC claiming a half-hour-long speech as an advertisement at the prime time news hour is nothing but a paid news.
"We have written to the EC... The BJP might claim that they are ads, however how can they claim that a half-hour-long speech is an advertisement?" a Congress member said.
IBN Lokmat former editor Nikhil Wagle too supported the paid news accusation and commented on the Marathi news channels' decision to air it, saying, "The 9 pm slot is the most important one in news TV. They have compromised with journalistic ethics by selling prime time news slots. This is just like paid news."