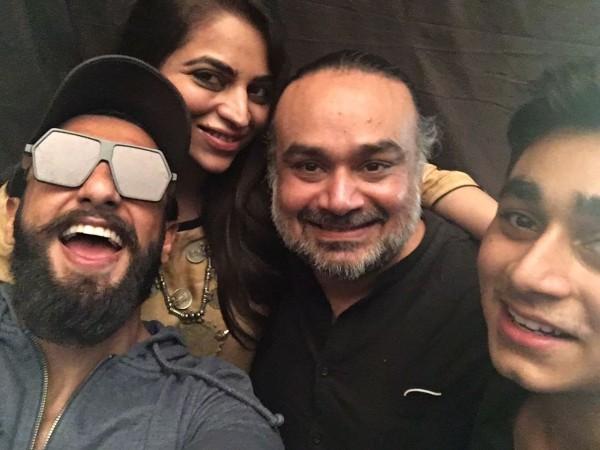 Sanjay Leela Bhansali is known to be very particular about the set designs and costumes of his films. And none of that is going to change with his next film, Padmavati.
Delhi-based duo Rimple and Harpreet Narula have been pulled on board to design the look and elaborate ensembles of the lead cast — Ranveer Singh, Deepika Padukone and Shahid Kapoor — and the rest.
"I cannot think of anyone else who can look as earthy and regal as Ranveer Singh. His look is intense (refers to his kohl-lined eyes), and the flow of fabric will add to his princely charm. He looks like a dream and is doing full justice to our designs," Rimple told Mid-Day.
The briefing the designers were given by the filmmaker was simple – the costumes have to be simple and at the same time ornate. The idea is to strike a balance.
"Balance is key. He knows what he wants. His knowledge of craftsmanship and hold on perfection are well known. But he is not overbearing. He gives you a free hand, which you will see reflect in the creations," she added.
A lot of what they have designed for Padmavati has been influenced by the creations they had showcased at a show in New Delhi. Also, they have done exhaustive research on where the characters came from and how that impacts their dressing. While Alauddin Khilji (to be played by Singh) was from a Turkic descent), Padmavati hailed from Sri Lanka.
"Besides the Persian influence on Ranveer's wardrobe, we had to research Sinhalese influences. Padmini hailed from Sri Lanka, and there is a chunk in the film where she is dressed in ethnic wear that reflects the neighbouring state's traditions," Harpreet elaborated.
Padmavati is Bhansali's third film with Singh and Padukone. Together, the trio has delivered two blockbusters — Bajirao Mastani and Goliyon Ki Rasleela Ram-Leela.