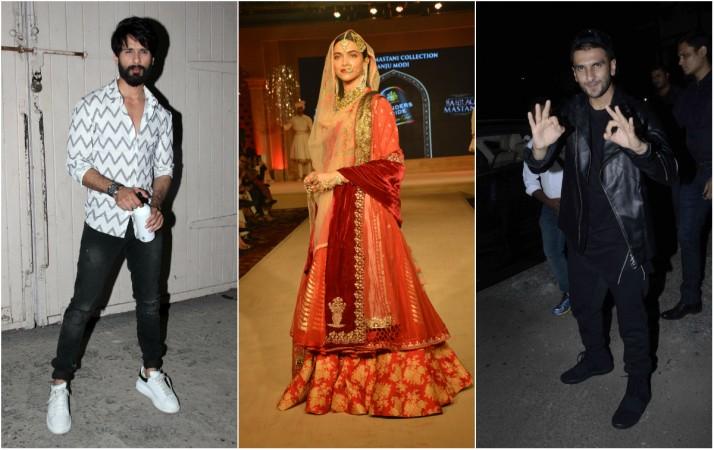 Sanjay Leela Bhansali's ambitious project Padmavati, which has gone through a lot of problems, is finally gearing up to roll the cameras next week. The first sequence will be a song shoot featuring Deepika Padukone. The gorgeous actress will be performing a Rajasthani folk dance.
A set has been constructed at Mehboob Studio in Mumbai, similar to that of Padmavati's Water Palace in Rajasthani's Chittorgarh Fort. Since the dance sequence doesn't require Ranveer Singh and Shahid Kapoor, the actors will start shooting separately sometime later.
"Deepika has already done a look test for the film and Ranveer Singh and Shahid Kapoor will be doing the same in a couple of days, separately. Both have been growing their beards and hair to play their respective characters — Shahid as the Rajput king Rana Ratan Singh of Chittor and Ranveer as the Sultan of Delhi, Alauddin Khilji," a source told Bollywood Life.
"The dance sequence will be shot on a set constructed at Mehboob Studio. Shahid and Ranveer are not needed next week as they are not part of the song," the source added.
Padmavati will see Deepika portraying the character of the queen of Chittor Rani Padmavati, while Ranveer will play the role of ruler Alauddin Khilji, which is apparently a negative role. Shahid will be seen playing Rani Padmavati's husband King Ratan Singh of Chittor.
While there were several issues surrounding the cast of the film, the script, ego clashes between Ranveer and Shahid regarding the screen time, the latest buzz was that Ranveer had put forth a condition that the first poster of Padmavati should only feature him and his rumoured girlfriend Deepika.
This apparently upset Shahid to such an extent that he threatened to walk out of the film if Ranveer doesn't stay in his limits. However, with the film finally set to go on the floors, it appears like Bhansali has sorted out the issues.