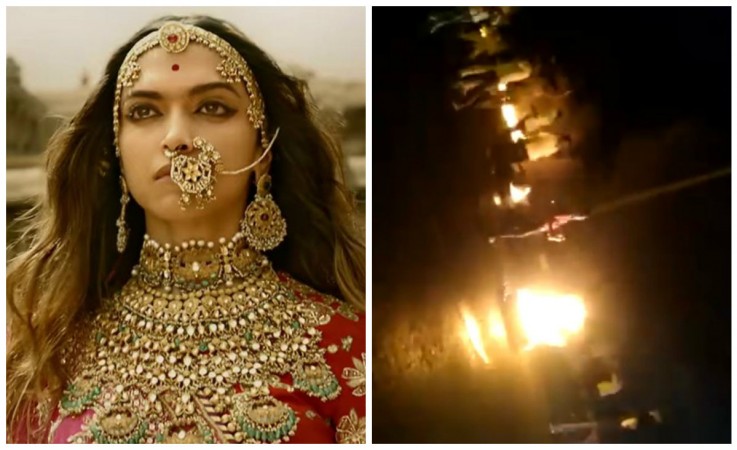 Activists of Karni Sena took out a huge protest on Monday evening near Vashi against the release of Deepika Padukone starrer Padmaavat. The activists shouted slogans, and disrupted the entire traffic on the Pune-Panvel Expressway, according to Zee News.
The members of Karni Sena blocked the highway, burning tyres and shouted out anti-Bhansali slogans. The protestors brought the traffic to a halt.
A video of the protest shows the agitators setting things on fire on the highway while shouting abusive slogans against Bhansali. The protest is in regard to the upcoming release of Padmaavat, which according to Karni Sena has objectionable scenes of Rani Padmini.
While the controversy has been making news for quite some time now, the protests intensified after the censor board and the Supreme Court gave a clean chit to the film.
Watch the video of Karni Sena protesting at Pune-Panvel highway.
This is not the only violent protest against Padmaavat release. There are reports of protests in other cities as well that caused damage to public property.
Recently, members of the same outfit created ruckus at DND Flyover toll plaza counters in Noida. They destroyed the toll counters and set a barrier on fire. Many of the protestors were later arrested.
Similar incidents happened in Gujarat when the protestors damaged buses and blocked roads. The agitators even burnt buses.
While as many as four states – Gujarat, Madhya Pradesh, Haryana and Rajasthan had banned the film, the Supreme Court had recently ordered the state governments to remove all the bans as the censor board has already cleared the movie.
This decision by the apex court apparently left the fringe outfits baffled. The film is slated to be released on January 25, and the possibility of more massive protests cannot be ruled out.
Meanwhile, director Bhansali has been trying to take all possible steps to facilitate a smooth release of the big film. Making changes to the Ghoomar song by covering Deepika's midriff through CGI, the makers of the film have been repeatedly assuring that there is no such scene in the film that would hurt sentiments of any community.