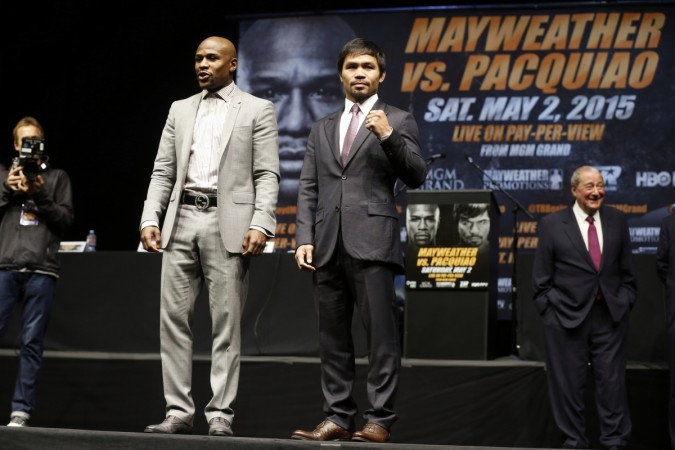 The fight of the century between Floyd Mayweather and Manny Pacquiao had hit a road black especially with the tickets for the mega fight not on sale with just around 10 days to go and Bob Arum, Pacquiao's promoter, had increasingly become frustrated.
But the issue seems to have been resolved after Arum and Top Rank President Todd duBoef met Leslie Moonves, President and Chief Executive Officer of CBS Corporation and Mayweather's adviser Al Haymon.
"We resolved all of the issues and now we're waiting for the paperwork," Yahoo quoted Arum as saying. "I said on the call that if what we agreed upon is in the paperwork we receive, we will sign it and the tickets will be released."
So with this, boxing fans around the world can heave a sigh of relief and wait for the megabout on 2 May at MGM Grand in Las Vegas. Boxing fans have been waiting for this fight for a very long time.
Both the boxers have been undergoing some serious training with their respective trainers to be in perfect shape for the bout. There is a lot of pride at stake along with the huge amounts they are going to make from the bout.
Ticket details for the fight have been released:
Tickets Price:
With the fight being touted as the richest in sports history, the tickets are priced high at $10,000, $7,500, $5,000, $3,500, $2,500 and $1,500. As reported by Yahoo, tickets priced at $10,000, are not available for the general public.
Ticket sale starts on Thursday
Time - 6 p.m. ET/3 p.m. PT
Where to buy online:
mgmgrand.com and ticketmaster.com
Important Telephone Numbers For Booking
Book by Calling - 800-745-300.
Tickets can also be brought at the hotel's box office or individual hotels' box offices or calling either 866-799-7711 or 800-745-3000.
Close circuit tickets details
Price - $150 plus taxes
Seats available - 35,000 and 50,000
Closed circuit viewing would be available at GM, Bellagio, Aria, Vdara, The Signature, Mandalay Bay, Delano, Monte Carlo, Mirage, New York-New York, Luxor, Excalibur and Circus Circus in Las Vegas.
Ticket Details Source: Yahoo