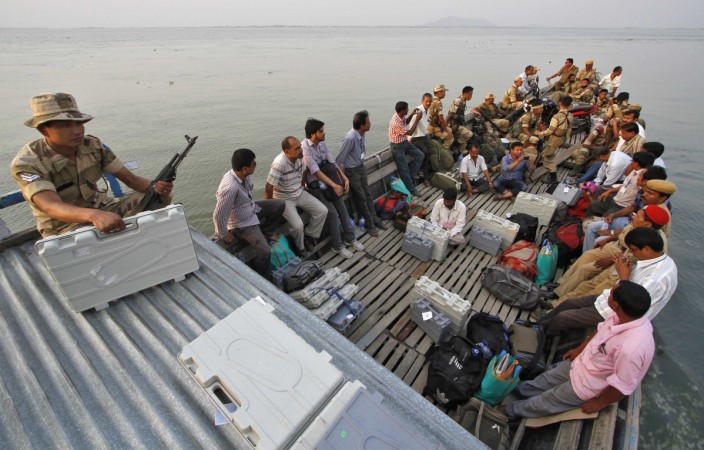 Northeast of India, which is considered as a stronghold for the Indian National Congress (INC) with six of the eight states being ruled by the party, is on the verge of falling into the hands of the Bharatiya Janata Party (BJP) and its allies with the 2014 Lok Sabha elections results tilting its way.
Assam Chief Minister, Tarun Gogoi has offered to step down anticipating a humiliating defeat in the state with BJP leading in seven of the 14 constituencies, while the Congress and the All India United Democratic Front (AIUDF) lead in three each, and an Independent candidate in one. This new development speaks volumes, as it is not an assembly election though the state is ruled by the Congress.
"I will submit my resignation to party President Sonia Gandhi taking full responsibility for the party's performance in the state," Gogoi told reporters on Friday.
In what could be taken as 'Narendra Modi Effect,' the BJP has managed to rip into Northeast region, a stronghold of the Congress. The party was leading in nine seats till the time of filing this story despite eight states being ruled by the Congress and its allies. Its seat count in the region may cross 10, as its alliance parties like Naga people's Front (NPF) are expected to add a few more.
There are 25 Lok Sabha constituencies in Northeast India.
Arunachal Pradesh, which is ruled by the Congress, is heading for a huge defeat with the BJP leading in two constituencies of the state. The Congress and National People's Party (NPP) were leading in one each in Meghalaya, while two constituencies in Manipur will most probably go to the Congress and NPF.
The CPI (M) was leading in two seats in Tripura and Sikkim's lone seat may go to Sikkim Democratic Front (SDF). The Congress was leading in the lone seat in Mizoram and the NPF was ahead in Nagaland.
The election results are yet to be declared, but it is obvious that the Congress will win only a few seats from Northeast – three from Assam, and one each from Manipur, Meghalaya and Mizoram.
The BJP is set to form a new government at the centre, taking an unassailable lead over its main competitor and the present ruling party, Congress, though the counting of votes is still underway. From 539 out of 543 constituencies in the country, the party has so far won 20 seats and leads in 259 seats, taking the total to 279, while the Congress has won only three and leads in 39 seats, taking the total to 42, according to the latest update by Election Commission of India.