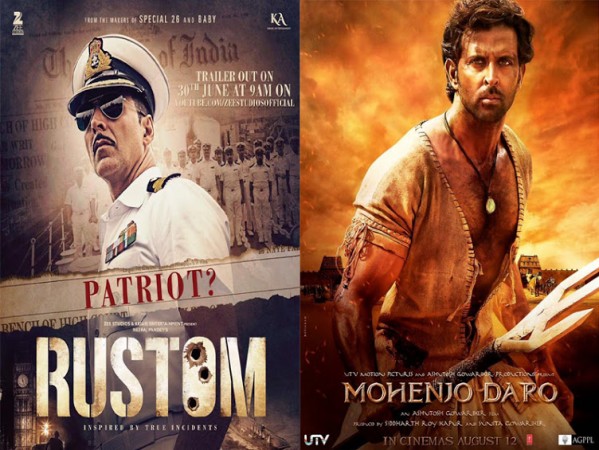 Akshay Kumar's "Rustom" has received a superb opening at the Australia, New Zealand and UAE box office, while Hrithik Roshan's "Mohenjo Daro" made disastrous collections on the first day.
The Akshay Kumar and Ileana D'Cruz-starrer was released in over 550 screens in the overseas markets. It started with a bang at ticket counters in some countries. "Rustom" collected US$45,225 (Rs. 30.26 lakh) from 26 screens at the Australia box office on the first day, with its per-screen average being US$1739.
"Rustom" collected US$25,534 (Rs. 17.08 lakh) from 18 screens in New Zealand on its opening day. Its per screen collection stands at US$1418. The Tinu Suresh Desai-directed crime-mystery earned approximately AED 1 million (Rs. 1.82 cr.) at the U.A.E. Box Office on Thursday, making it the second biggest opener for Akshay Kumar after "Airlift" in the region.
However, the Hrithik Roshan and Pooja Hegde-starrer made a very poor start in Australia and New Zealand. "Mohenjo Daro" collected US$25,781 (Rs.17.25 lakh) from 23 screens in Australia and US$8,564 (Rs. 5.73 lakh) from 10 screens in New Zealand on the first day. Its per-screen average is much lower than that of "Rustom" in both these international markets.
"Rustom," inspired by real-life murder case involving Naval officer KM Nanavati, has a gripping storyline and has impressed the audience, but tighter editing could have made it a better watch. Brilliant performances by Akshay and other cast members are the major highlight of the film.
Hrithik's "Mohenjo Daro" has, however, received poor reviews from movie-goers. Touted to be one of the most expensive Bollywood films, the movie was expected to be a massive hit but unfortunately, it failed to connect with the audience, leaving them baffled at the theatres.