Since the fall of Qaraqosh, Iraq's largest Christian town, thousands of refugees have been forced to take shelter in the churches in Erbil. But as the number of refugees keeps rising, the churches are running out of space to provide shelter.
It has been estimated that over 400,000 refugees have crossed into Erbil, while fleeing the Islamic State militants.
Local news source Rudaw reported that the Church of Saint Joseph in Erbil's Christian Ainkawa district is bursting at the seams as 100,000 more refugees flooded the city, following the capture of Qaraqosh.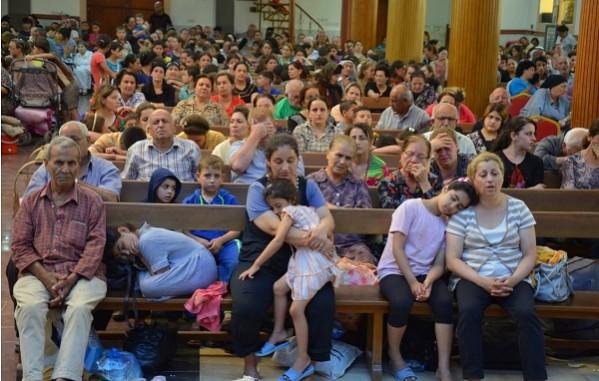 Even at the sports facilities and schools, where the refugees have been given shelter, are getting overcrowded.
Finding no space inside any building, reports claim that men, women and children have been forced to camp in temperatures of over 40 degrees C in open grounds. At night many, who find no shelter, sleep on the grass outside churches, according to reports.
The Telegraph reported that the streets of Erbil have also become camp sites for the refugees, and that people are seen sleeping anywhere they could find a place.
Erbil once used to be a tourist destination, and the local authorities now fear that the steady migration of refugees would impact the city.
"The total number of Iraqi refugees in Erbil alone has exceeded the 400,000 mark and [they] are distributed inside and outside the capital," governor of Erbil, Nawzad Hadi, told Arab daily Asharq Al-Awsat.
While it is the moral duty of the Kurdish authorities to receive Iraqi refugees, their steady influx over the last few weeks is beginning to "burden services in the region", Hadi added.