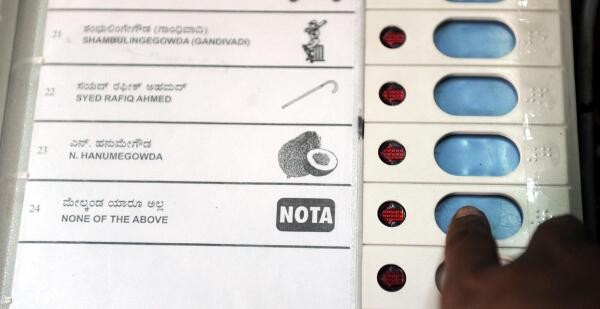 As figures of the Gujarat and Himachal Pradesh Assembly Elections 2017 poured in, a good number of voters who chose not to vote any candidates in the fray, also brought out some interesting face of the crucial polls.
Around 1.8% of voters of Gujarat which accounts to over 5.50 lakh people opted for the NOTA ('none of the above'). On the other hand, Himachal has 0.9% voters (33,727 people) who chose NOTA.
While the BJP managed to get 49% of votes which accounts to 14,365,097 voters, the Congress could get 41.5% votes that is 12,149,825 voters, in Gujarat.
Others including independents got 4.3% votes (1290156), BTP 0.8% (222694) votes to BTP, BSP received 0.7% votes (206958), 0.6% (184730) voters cast their vote to NCP, AINHCP got 0.3% (83907) votes and 0.2% (45833) votes were recorded for RSP).
Also Read: Gujarat, Himachal Assembly Elections 2017 updates: Here are the political reactions
When NOTA was introduced in 2012 Gujarat Assembly Elections, 3.07 per cent voters (4,01,058) had opted to use the 'none of the above' option in the EVM, The Print reported. In Chhattisgarh, it was 3.06 per cent (4,01,058), in Rajasthan it was 1.91 per cent (5,89,923), in Madhya Pradesh, it was 1.9 per cent (8,945), in Delhi it was 0.63 per cent (49,884). Punjab, it was 0.7 per cent (65,151), and 0.87 per cent Uttar Pradesh (3,29,113.)
Why voters choose NOTA on EVM?
The growing number of NOTA voters could be read as the disenchantment of a section of the voters to how elections are run or current democratic process fares. Their snubbing of the political parties and candidates in the contest could also an indication of their rejection of money and muscle power in the elections.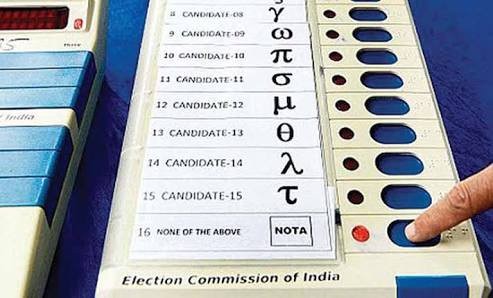 NOTA voters are not TINA-apologists (those who think there-is-no-alternative and end up voting for the lesser of the two evils), ThePrint reported. The voters under NOTA are the people who don't just cast their vote for the sake of it, but by choosing not to vote in the given options, these are the people who raise an alarm to the current system, of the irregularities and flaws in it, the website observed.