A state-sponsored massacre that took place twenty-eight years ago is hitting the headlines again after newly-released UK documents reveal that the Chinese army crackdown on the 1989 Tiananmen Square protests killed at least 10,000 people.
Nearly three decades after the incident, the Communist regime continues to forbid any debate on the subject. And, the mention of which is banned from textbooks and the media, and censored on the internet.
Previously, the estimates of the deaths in the pro-democracy protests ranged from several hundred to more than 1,000, BBC reported.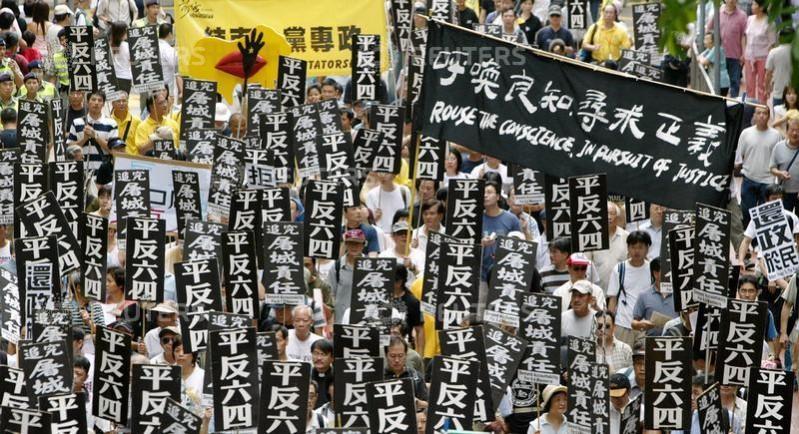 Here are ten key facts that were buried for almost three decades and is now out in open:
The new figure revealed was given in a secret diplomatic cable from the then British ambassador Alan Donald.
"Minimum estimate of civilian dead 10,000," Alan Donald said in the secret telegram to London seen by AFP at Britain's National Archives.
Donald's account reveals the horrific details of the violence that's unleashed on the night of June 3-4. The army entered Beijing to end the protests of seven weeks on Tiananmen Square -- the symbolic heart of Communist power.
The armoured personnel carriers "opened fire on the crowd (both civilians and soldiers) before running over them in their APCs", wrote the ambassador.
The document reveals that injured girls were being bayoneted, bodies were being ground up by armoured vehicles and the remains of the dead bodies were being flushed into the sewers.
"Students understood they were given one hour to leave square but after five minutes APCs attacked," Donald wrote.
Donald also wrote:"Students linked arms but were mown down including soldiers. APCs then ran over bodies time and time again to make 'pie' and remains collected by a bulldozer. Remains incinerated and then hosed down drains."
"Four wounded girl students begged for their lives but were bayoneted," Donald said, adding: "Army ambulances who attempted to give aid were shot up."
He also said that his source was a reliable person who "was passing on information given him by a close friend who is currently a member of the State Council" -- the Chinese cabinet.
"27 Army ordered to spare no one," he wrote and added: "1000 survivors were told they could escape but were then mown down by specially prepared MG [machine gun] positions"
The cables are at the UK National Archives in London and were declassified in October when they were seen by the HK01 news site.