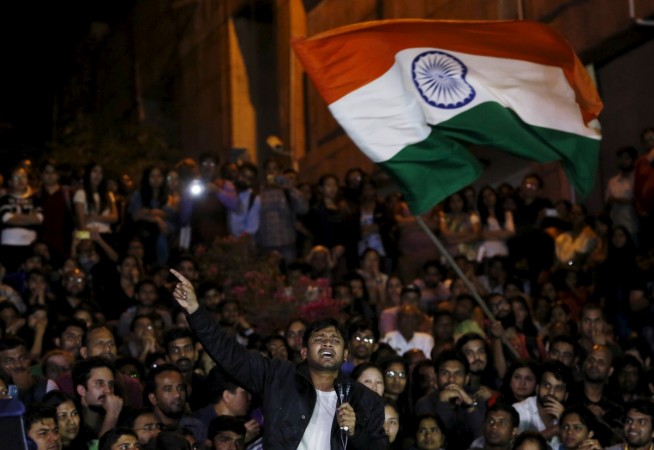 Controversial slogans, which were shouted during the Feb. 9 event in the Jawaharlal Nehru University (JNU) campus, were reportedly raised by outsiders, the high-level inquiry committee of the varsity said. They have also sent show cause notices to 21 students who were part of the event.
The inquiry committee, formed Feb. 10, recently released its report on the issue. The committee condemned the organisers, identified as Umar Khalid, Komal Mohite, Anirban Bhattacharya and Aswathi A Nair, for allowing outsiders to join the event. The four students had signed the requisition to the university administration for space to hold the event, "Poetry reading – A country without a post office," the Hindu reported.
"This act by outsiders has brought disrepute to the entire JNU community," the Press Trust of India quoted the report as saying.
The report further adds: "The committee also notes that none of the JNUSU office-bearers acted with due responsibility. The office-bearers had to behave with even more restraint and caution befitting the position they hold...It is unbecoming of student representatives that they should be found engaging in disorderly conduct or condoning it."
Slogans like "Bharat ko ragda, de ragda," "Aeen Hindustan ka manzoor nahi manzoor nahi," "Go India go back," "We want freedom," etc. were raised by outsiders who had covered their faces and one JNU student, Mujeeb Gattoo, was among the sloganeers, the Hindu quoted the report as saying.
Kumar, who was president of the students union, had asked why permission was withdrawn by the committee, the Hindu quoted the inquiry report as saying. The 28-year-old PhD student was jailed for three weeks and has recently been released in relation to the same issue.
Meanwhile, Khalid and Bhattacharya's judicial custody was increased by another 14 days. Their laptops and other documents were seized by the police. Their bail plea was blocked Wednesday by the counsel of the Delhi Police. The Patiala House Court reserved its order on the bail plea till March 18, ANI reported.