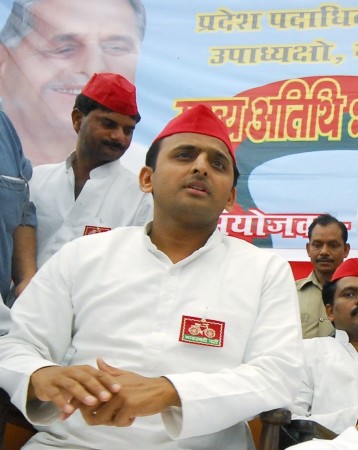 Senior Samajwadi Party leader Narendra Singh Bhati was caught on camera claiming that he got IAS officer Durga Nagpal suspended 'within 40 minutes' for allegedly demolishing the wall of a complex that housed a mosque in the Kadalpur village of Noida.
The mobile clip, as per India TV reports, was recorded on 28 July when Bhati was addressing a rally at Kadalpur.
"I was persuading this absurd lady (behoodi mahila) but she didn't listen to me, and within 40 minutes I spoke to the CM, to Mulayam Singh ji and got her suspended," he said.
The Sub-Divisional Magistrate, Durga Nagapal, was suspended on Saturday night (27 July), a day before Bhati addressed the rally, for allegedly endangering communal harmony.
Nagpal's suspension is being linked to stopping the illegal sand mining in Greater Noida. A fine of upto ₹2 crore has been issued to those responsible for illegal mining since Nagpal was posted as SDM.
During his speech, Bhati clearly specified the incidents that unfolded the night when the SDM of Gautam Buddh Nagar at Greater Noida was suspended.
When Bhati got to know about the demolition of the wall he spoke to SP chief Mulayam Singh Yadav at 10.30 pm that night and then place a call to Chief Minister Akhilesh Yadav at 11:10 pm. Soon, the SDM's suspension order was handed to the Collector.
"This is the power of democracy," he said during the speech. The senior leader denied having any knowledge of how and when the SDM was suspended, during a debate on a TV news channel on Thursday.
Retd IPS officer and social activist Kiran Bedi said the judicial body in Uttar Pradesh should take notice of Bhati's claim.
"Perfect confession of d Politician who got Durga suspended in 40 mins in violation of processes. Courts can take cognizance!" she posted on the micro-blogging site Twitter.
Meanwhile, CM Akhilesh Yadav justified the controversial suspension order saying," No decision was taken because of any mining group. Government takes decision based on actions by officer. It was a right decision (suspension)," he told ANI.
To which Bedi condemned again saying, "UP govt's refusal to rescind Durga's order despite d huge outcry has clearly estimated where their vote bank is! Durga/Khemka's case has a clear political message: Public officials r servants of politicians to b discarded when out of line! IAS exam toughest to clear. So much just for CHAMCHAGIRI?" she posted on Twitter.
Even leaders from SP ally - Congress and Opposition Bharatiya Janata Party, did not miss the opportunity to slam the UP government.
"Extremely unfair decision, taken keeping vote bank politics in mind. Central government must intervene and deliver justice, this is what people are expecting from them," BJP leader Nitin Gadkari told ANI.