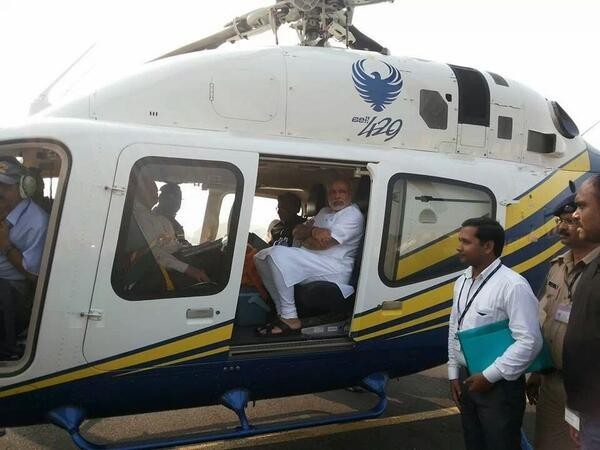 Two mobile phone towers of a private company were blown up in the Gaya district in Bihar on Wednesday night, where two election rallies were to be addressed by Narendra Modi, the prime ministerial candidate of Bharatiya Janata Party (BJP), according to media reports.
The towers were situated in the Manjhauli and Dumaria Bazar villages in the district. The Maoists have called for a shutdown in the Maoist-hit districts of central Bihar to protest the killing of 10 of their associates in the Chhatra area recently, said Superintendent of Police Nishant Tewari on 27 March.
Bihar Director General of Police (DGP) Abhayanand said the Maoists have used powerful bombs to blow up the cellphone towers. Modi's two election rallies were scheduled to be held in the same area, he stated.
"We have anticipated all types of threats from the Maoists and terrorists. Security arrangements are being made accordingly," a PTI report quoted Abhayanand as saying.
This is not the first time that bomb blasts preceeded Modi's public rallies in Bihar. Five persons were killed and more than 60 were injured in a Patna rally back in October. It can be recalled that former Prime Minister Rajiv Gandhi was killed by an LTTE activist at an election rally in Sriperumbudur, near Chennai in May 1991.
Here is a timeline of the 10 infamous bomb blasts in India, which include poll-eve blasts.
2013: Five people were killed and over 60 were injured in Patna on 27 October 2013, when six serial bombs went off around the city's Gandhi Maidan, the venue where Modi was scheduled to address a public rally. Modi addressed the rally and asked the gathering to reach home safely.
2012: On 27 January, an election-eve bomb blast was triggered by terrorists in Manipur's capital Imphal. It did not kill anybody but injured one person and created panic in the city. Police defused the bombs planted near polling booths. The next day was scheduled for the State Assembly election.
2011: On 13 July, serial blasts killed 26 persons and injured 130 in Mumbai's various locations, including Zaveri Bazar and Dadar.
2010: On 13 February, bombs claimed 16 innocent lives when a blast occurred in Pune's German Bakery.
2009: On 1 January, six persons were killed and 67 were injured in Guwahati. Police suspect United Liberation Front of Assam was responsible for the bomb blasts.
2008: On 26 November, 10 terrorists allegedly from Pakistan killed 166 persons in Mumbai, most of them passengers in the Chatrapati Shivaji Terminus. Security forces managed to capture one terrorist, Ajmal Kasab, who was hanged four years later on 21 November 2012.
2007: In February, a fire bomb killed 66 passengers on the Pakistan-bound Friendship Express, which links India and Pakistan. In May, 11 were killed and 15 were injured in Hyderabad's Mecca Masjid. In August, again in the Andhra Pradesh capital, 30 were killed and 50 were injured, when two bombs exploded in an outdoor auditorium and an eatery.
2006: Mumbai train bombings - On 11 July, in a series of seven blasts in Mumbai, 209 persons were and over 700 were injured. The blasts took place over a span of 11 minutes in different trains and stations.
1998: On 14 February, bombs exploded in Coimbatore, killing 46 persons and injuring more than 200. The bombs were planted in cars, just 250 metres away from the venue on TV Samy Road, where BJP's LK Advani was supposed to address an election rally, half-an-hour before the explosion. On 14 and 15 Februarty, bombs went off in more than 15 places in the city.
1991: Former PM Rajiv Gandhi, 46, was killed by a suicide bomber of Liberation Tigers of Tamil Eelam (LTTE) at an election campaign rally in Sriperumbudur, near Chennai on 21 May 1991.