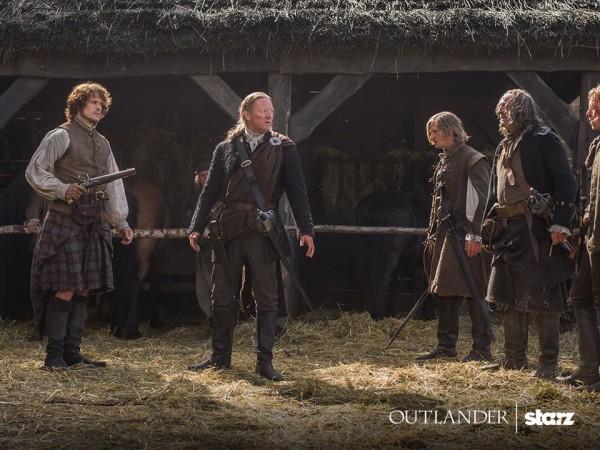 The cast and crew of Starz's time travel series "Outlander" is currently filming Season 3 and its lead stars Caitriona Balfe, Tobias Menzies and Sam Heughan were spotted at the University of Glasgow on Monday.
Balfe, who plays Claire in the drama, was spotted flaunting a rather large baby bump, and in modern clothes. According to reports, the University of Glasgow is doubling in for Oxford University, where Menzies' Frank Randall taught history.
The third season of "Outlander" is expected to briefly focus on the period after Claire returned to her first husband following Jamie's instruction to travel back to the future for the safety of their unborn child.
As fans of Diana Gabaldon's "Outlander" series of books already know, Season 3 will be based on "Voyager," and it will see Claire deciding to go back to Jamie, who survived the Battle of Culloden. However, the Jamie she meets will not be the same one she fell in love with. Jamie and Claire would have been separate for about two decades before their highly anticipated reunion, and life hasn't been fair to Jamie. This will force him to be involved in illegal activities, which Claire doesn't approve of.
Elsewhere in the season, viewers will be introduced to the grown up version of Lord John Grey, who, as book readers know, plays an important role in Jamie's life. The casting of David Berry as Lord John Grey has not pleased a section of audience, but Heughan seems to be all praise for the Australian actor.
Check out Heughan's tweet below:
... #DavidBerry is SLAYING it btw....

— Sam Heughan (@SamHeughan) September 6, 2016
Also, find below the photo of a very pregnant Claire.
Cait on set in Glasgow on Sept. 5th as pregnant Claire. #Outlander pic.twitter.com/OvfXp2Ukgn — Amy Noelle (@AmyNoelleY) September 6, 2016