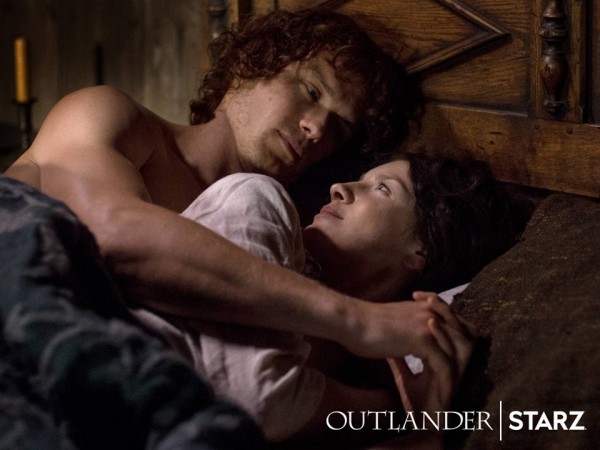 Filming for Season 3 of Starz's "Outlander" has commenced and the show is currently shooting the battle scene. Photos from the set shows blood dripping from Sam Heughan's face as he films the Battle of Culloden, which will end with some important characters dying.
Season 3, which will air sometime in 2017, will see Jamie and Claire reuniting after a span of 20 years, and recently, Heughan took to Twitter to tease a fatter Jamie. While he was not authorised to post an actual image of an older Jamie, the actor teased fans with Fat Ba---rd from the "Austin Powers" movies.
This image prompted a response from Caitriona Balfe, who plays Claire, who noted that Jamie and Claire won't have a happy reunion if her on-screen love interest looks like Fat Ba---rd.
Based on online chatter, the print shop scene is one of the most awaited scenes from the upcoming season of "Outlander." But the new Jamie might not possess all the qualities she once cherished in her husband. The 20 years they have been apart would have changed both Jamie and Claire.
As for what to expect in the upcoming season, showrunner Ronald Moore told Radio Times that there will be a big change of scenery for Jamie and Claire in Season 3. "I don't think I'm giving too much away, but the story of season 3 will start in Scotland. Then there's a sea voyage involved in the 18th century, an extended journey across the Atlantic, and then the story goes to Jamaica and the Caribbean and ending up in the New World."
He also hinted that the third season would be very different from the first two seasons of the time-travel drama. "As different as season two was from season one, season three will be again from season two."
Perfect. pic.twitter.com/kDFwL6bT2G

— Sam Heughan (@SamHeughan) August 21, 2016
@SamHeughan Claire enters print shop ... Jamie turns round.... Claire makes hasty retreat. — Caitriona Balfe (@caitrionambalfe) August 21, 2016
"Outlander" is the television adaptation of Diana Gabaldon's "Outlander" series of books and Season 3 will be based on "Voyager."