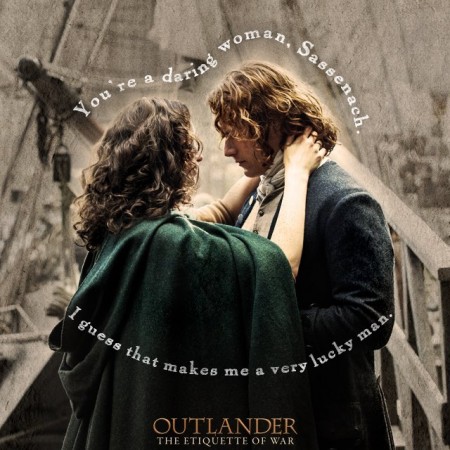 Outlander, the time-travel show based on Diana Gabaldon's book series of the same name, is currently in production and almost half the episodes from the upcoming season have already been shot. Based on an interview Caitriona Balfe gave to a media outlet, the famous print shop scene is already in the bag.
Also read: Golden Globes 2017: Will Game of Thrones lose out to The Crown?
Warning: This post contains possible spoilers from Season 3 of Outlander.
As those who have read Gabaldon's Outlander series of books already know, the print shop scene featured in Voyager, the third book, is when Jamie and Claire reunite after spending more than two decades apart, believing the other one is dead. In the television series, Jamie and Claire's meeting may not take place in a print shop, but that has not taken away the beauty of the scene.
"Of course, there will be a reunion," Balfe told The Wrap when asked about the reunion. "Which I think is really beautiful and it's been filmed really beautifully. It's very interesting, it's like, how do two people come together after not seeing each other for 20 years, after both believing each other have died, and how do you build something real again?"
Sam Heughan and Balfe filmed separately for most part of Season 3, as Heughan was busy wrapping up the Battle of Culloden and Balfe was tied up with filming flash forward scenes in Boston with Tobias Menzies, the actor who plays her husband Frank. "It's always hard when we're apart, actually, because she's a great person, great to come to work with, and a very good actress," Heughan told Vanity Fair back in October when asked about filming without Balfe.
Outlander Season 3 will see a lot of new cast members. Hannah James and Tanya Reynolds will play Dunsany sisters Geneva and Isobel, César Domboy has been cast as adult Fergus, Australian actor David Berry as Lord John William Grey, and Lauren Lyle as Marsali.