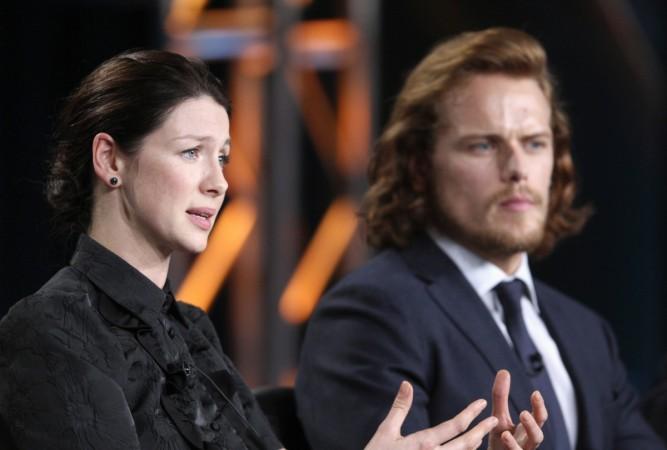 Ever since Season 2 of "Outlander" returned to Starz, fans have been waiting to see how the events of the previous season will affect Jamie and Claire's relationship. As evidenced in the previous episodes, Jamie's rape has affected their intimacy and although Claire has been understanding, it has caused a strain in their overall relationship.
Saturday's episode titled "La Dame Blanche" will see Claire and Jamie trying to regain their physical intimacy and according to spoilers, they will succeed. But things become complicated once again when Claire reveals to her husband the truth about Black Jack Randall. The previous episode saw Claire meeting Alex Randall and finding out that Jamie's rapist was alive, and she will be forced to reveal this information to Jamie when she realises that Alex will be a guest at the dinner party she is hosting.
How Jamie reacts to all this is yet to be seen, but as actor Sam Heughan revealed to Yahoo, Claire's love for Jamie might not be enough to see him through the dark phase of his life.
"Jamie is not in a healthy place when they begin this part of their journey," Heughan told Yahoo! "And France and the mission they are on there — trying to infiltrate the Jacobite rebellion and stop the battle of Culloden and a race of people being wiped out — has a lot of consequences on their relationship, and love may not be strong enough to see them through. They're not comfortable in this world."
Elsewhere in the episode, Caitriona Balfe's Claire will be poisoned, proving to the couple that not everyone is thrilled to have them in France. Comte St. Germain is Claire's primary suspect.
The synopsis for the episode reads:
Claire and Jamie throw an elaborate dinner party intended to derail investors in Prince Charles' war effort. Meanwhile, Claire's revelation that Jack Randall is alive sparks Jamie in an unexpected way as he and Claire struggle to regain their physical intimacy.
"Outlander" airs Saturdays on Starz. Click here to watch the episode online.