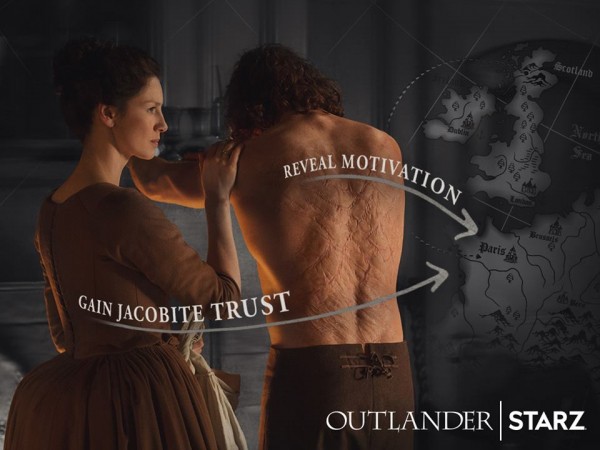 The Season 2 premiere of Starz's "Outlander," which is known for its sexual content, was rather tame compared to the previous episodes. But that will change this Saturday, when Jamie will see himself spending more and more time in a brothel. Spoilers indicate that the episode will be filled with talks of sex toys, and it will feature pierced nipples and intimate waxing too, as Claire and Jamie get set to live life the French way.
The second episode of the season is titled "Not in Scotland Anymore" and it will see Jamie trying to get close to Prince Charles to fulfil their mission of stopping the Jacobite rebellion. Besides Prince Charles, the Highlander will also come across King Louis XV who according to Radio Times will be on the toilet seeking advice about his blocked bowels.
Claire will make new friends in the form of Master Raymond, a local apothecary, Louise, a wealthy French socialite, and a young English woman named Mary.
Previewing what's next for Jamie and Claire in France, Entertainment Weekly note that their first order of business is getting settled in their new home in Paris, which is plus with servants. Jamie will also get in touch with influential people to further his mission and this will involve him spending time at a brothel.
The episode will also explore how Jamie's relationship with Claire has changed following the events of the Season 1 finale that saw Jamie being raped by Jack Randall. Jamie's physical wounds have healed, but he still suffers from vivid dreams that strain his relationship with his pregnant wife.
The official synopsis for "Not in Scotland Anymore" reads: "Life in Paris is not without its trials as Jamie struggles to triumph over the traumas of his past. A fortunate meeting with Jacobite leader Prince Charles presents opportunities, while the Duke of Sandringham's presence brings complications."
"Outlander" airs Saturdays on Starz. It stars Caitriona Balfe, Sam Heughan and Tobias Menzies in lead roles.