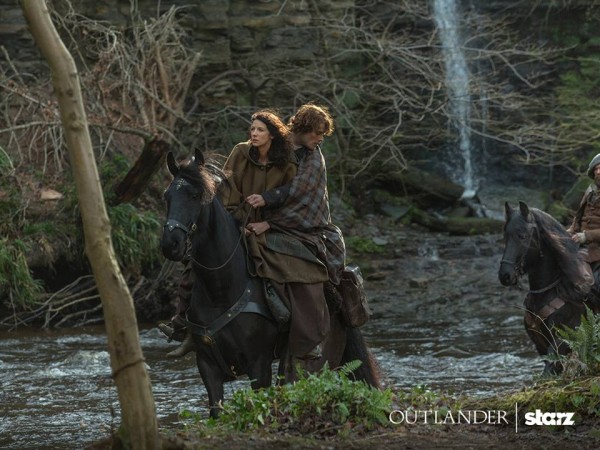 Black Jack's torture is going to have a profound effect on Jamie's marriage to Claire, who will attempt to nurse him back to health in the season 1 finale, titled "To Ransom a Man's Soul."
The penultimate episode of the season, described as one of the darkest episodes, saw Black Jack torture and humiliate Jamie in a bid to break him. Although Jamie initially resisted yielding to Black Jack's wishes, he was forced to submit before his enemy when Claire's rescue attempt fails and she gets captured.
Tobias Menzies, who plays Black Jack, recently opened up about his character's fascination with Jamie and Claire, noting that he loves the challenge of breaking their relationship.
"I think he's intrigued by them because they can match him, in a way. Claire is smart as a whip, and that piques his interest. Jamie is a man of considerable physical and moral rectitude and ability," Menzies explained to Zap2it. "I think he likes a challenge."
Sam Heughan also shared his insight on Black Jack's motives to hurt Jamie, saying the British captain's aim is to taint Jamie's love for Claire.
""Ultimately it's not about Black Jack just being evil or nasty; it's about Black Jack wanting to break Jamie and wanting to break this love he has for Claire," Heughan told the media outlet. "The tragedy of this whole story -- which I find really exciting -- is we've got this beautiful relationship, this beautiful romance that ultimately gets completely tainted and destroyed by Black Jack. Maybe it's irreversible, who knows?"
The final episode of the season will be darker and have more graphic than the previous one. But there's a light at the end of the tunnel for Jamie and Claire.
The official synopsis of the episode, titled "To Ransom a Man's Soul" reads: "A risky escape attempt will get engineered to free Jamie, and he's going to get taken to a nearby monastery where Claire will attempt to nurse him back to health, both his mind and body."
"Outlander" airs on Saturdays on Starz.