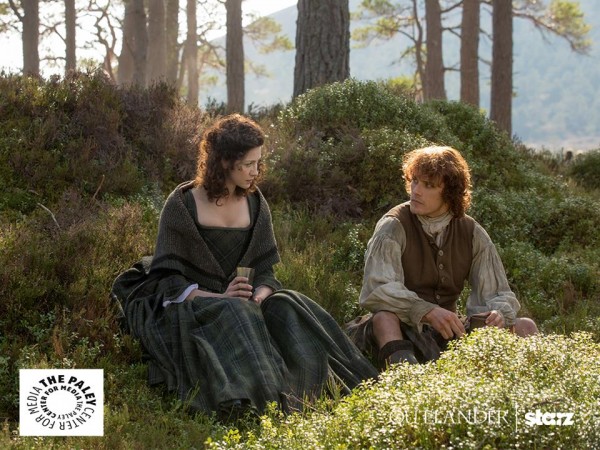 "Outlander" will return to Starz on Saturday with "The Reckoning," the ninth episode of the season, and the midseason premiere is expected to pick up immediately after the events of episode 8 that ended on a cliffhanger.
The last we saw of Sam Heughan and Caitriona Balfe's characters, Jamie was shown coming in through the window just as Randall was about to rape Claire. Jamie will succeed in rescuing Claire, but things take an unexpected turn when he himself becomes a prisoner.
Heughan recently spoke about what the future holds for Jamie and Claire, and revealed that the Scottish warrior will get to know Claire's secret.
According to TVGuide, the 18 April episode will see Claire fighting for her life after she and Geillis (Lotte Verbeek) are accused of being witches. Although Claire survives, Jamie will finally question her about what she is hiding.
As fans of the series know, Claire is from the future; she time-travelled from 1945 England to 1743 Scotland, and Jamie will finally learn the truth.
But will the truth spoil their relationship?
"He always knew she had a secret," Heughan told TVGuide. "So, when she finally reveals [she's from the future], he says he believes her; he trusts her word. Whether or not he can get his head around the enormity of what that actually means, that takes a long time. But ultimately they have this bond and he trusts her and she trusts him and that's an amazing thing."
According to spoilers based on the Outlander series of books, the relationship between Jamie and Claire will be tested, but it is only going to strengthen the bond their share.
Interestingly, fans will also see secrets from Jamie's closet tumbling out. "Jamie's very guarded. We never see more than he wants to reveal," Heughan explained to New York Daily News. "There's another life to Jamie. He can't go back home. He has a sister with whom he doesn't see eye to eye. We're learning more about his relationship with Claire. He says he loves her, but she's tearing his guts out."