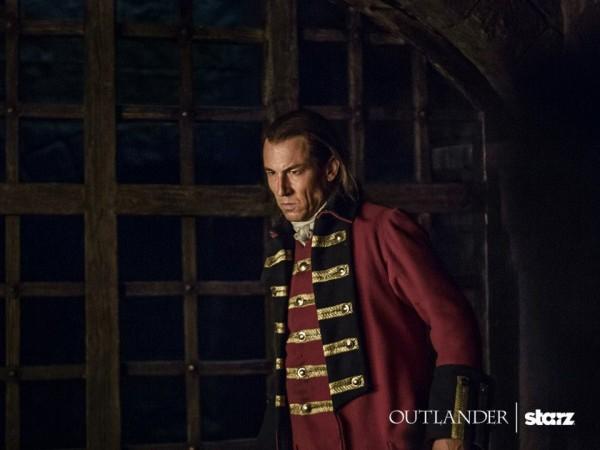 Saturday's episode of "Outlander" cannot be described as anything but brutal, and at this point it seems unlikely there's any light at the end of the tunnel.
The episode saw Black Jack Randall break Jamie, both mentally and physically, setting the scene for an intense finale where Claire will have to decide whether to embrace the new Jamie or bring him back to his normal self – a task that isn't going to be easy.
The finale is titled "To Ransom a Man's Soul" and it will see Claire rescuing Jamie from the prison, thanks to a plan that involves 21 cows. And, as fans who have already read the "Outlander" series of books know, the events that follow the rescue plan is going to be tougher to watch, especially as it will involve Jamie detail what actually happened with Black Jack in the prison.
Talking about Black Jack and what he was trying to accomplish by torturing Jamie, episode writer Ira Steven Behr told The Hollywood Reporter that it could have something to do with his sense of honour.
"With Jamie it's not just a case of a man wanting another man to die; he saves Jamie [because] — and Ron and I talked it over after the show was done and one of the things that came across to us was Black Jack's sense of honor. Don't expect to understand it fully or be able to relate to it, but he does have one.
"He wanted to give Jamie a noble death — he meant that — and to him it was a bargain. It was, 'I can't save you from British justice but I can give you the death you deserve, but in exchange you must allow me to break you physically and mentally.' Now that sounds crazy, but to Black Jack that makes a certain amount of sense," Behr said.
The series is taking a one-week break after Saturday's difficult episode, and the finale will air on 30 May. The official synopsis of the finale episode, "To Ransom a Man's Soul", reads: "A desperate plan manages to free Jamie, but his wounds are more than just physical. At a nearby monastery, Claire attempts to save both Jamie's heart and soul, as his mind lingers on the torture."