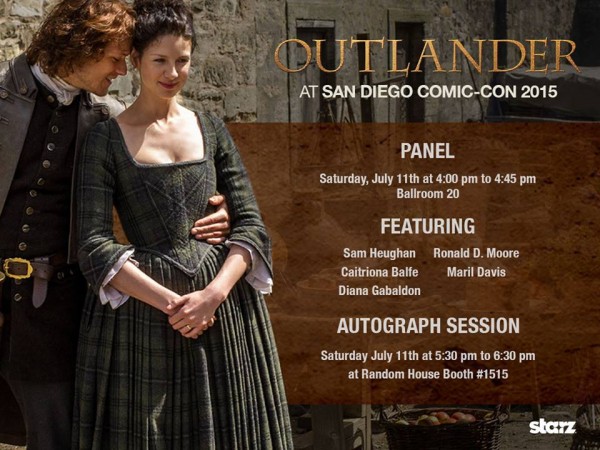 There are going to be a few surprises in store for fans who will be attending the "Outlander" panel at San Diego Comic-Con.
While it is not immediately known if there will be a full-fledged trailer for the upcoming season, which is currently in the works, E!Online's Kristin Dos Santos, in her spoiler column, has teased at the possibility of a special video treat.
"Fingers crossed, you will have at least one video treat--but I can't spill yet exactly of what nature! The panel should be a blast, and have a few surprises. So nab your seat early!" she wrote.
As for who all will be attending the panel, one can expect showrunner Ronald D Moore, series author Diana Gabaldon, and lead actors Sam Heughan and Caitriona Balfe, and they are expected to give fans the intel on how they have filmed some of the most gruesome scenes featured in the first season.
The second season will see Jamie and Claire, the characters essayed by Heughan and Balfe respectively, trying to make a life for themselves in Paris.
Moore recently opened up to Entertainment Weekly about season 2, and said it pretty much starts with the couple's arrival in France.
"Well, how the opening episode literally opens I won't get into, obviously, because that's just how we tell the story, but the story of Jamie and Claire in the 18th century pretty much starts with their arrival in France. The big story point picks up from where we left season 1, which is Claire and Jamie deciding to attempt to change history by stopping the Jacobite rebellion and changing history so as to prevent the slaughter on Culloden Moor and the destruction of the Highland culture after it. That's the major plot going into the season," the showrunner said.
Jamie's rape at the hands of Black Jack is going to colour his character, and the after-effects of the assault is going to have an effect of Jamie's relationship with Claire, the showrunner said.