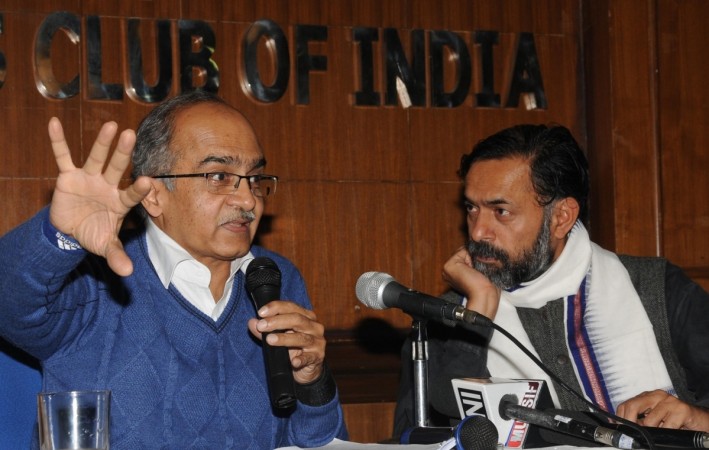 Prashant Bhushan and Yogendra Yadav — both of whom were ousted from the Arvind Kejriwal-led Aam Aadmi Party (AAP) — on Sunday, October 2, launched a political party named the Swaraj India, which will apparently focus on "alternative politics".
Bhushan, originally a lawyer by profession, had been a co-activist of Kejriwal — who is now Delhi chief minister — since their days of working under anti-corruption crusader Anna Hazare. He even helped Kejriwal found the AAP, and was responsible for much of the good publicity the party received. However, they parted ways after Bhushan accused the "non-democratic" way in which Kejriwal was functioning, while the party chief claimed nothing of the sort was happening.
Yadav, an academician by profession, had also been a part of the AAP, but had been ousted from it due to what the political outfit said was "anti-party activities". He, Bhushan, Anand Kumar and Ajit Jha then went on to form the Swaraj Abhiyan, and the Swaraj India is the political result of that development.
Bhushan said on Sunday about the new party: "The Swaraj India is formed to become a true vehicle of alternative politics. It is the first party to come under the right to information (RTI). It will be federal in nature, and led by Yogendra Yadav." He added: "I have agreed to become convener of the Swaraj Abhiyan, which will be a non-electoral campaign organisation. I have not taken an executive position in the party."
He also said: "Forming a new party for alternative politics is a sacred duty. The yardstick for alternative politics are internal democracy, decentralisation, transparency and accountability." These are, incidentally, the very topics on which Bhushan and Kejriwal had clashed, which had led to the former's ouster from the AAP.
Yadav said: "The Swaraj Abhiyan will continue as a campaigning organisation after formation of the party [Swaraj India]."
Bhushan's father Shanti Bhushan, who also interacted with reporters at the unveiling of the Swaraj India in New Delhi, said: "The new party will change perspective of politics. People will start believing now that good people are part of politics and will stand by principles." Bhushan was also part of Hazare's crusade against corruption.