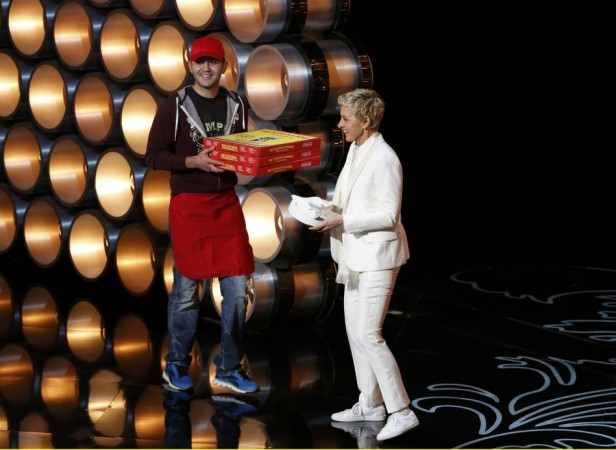 As rains threatened to dampen one of the most awaited award shows of the year, chat show host Ellen DeGeneres kicked off the 86th annual Academy Awards with a monologue that poked fun at Hollywood's royalty as well as the weather.
"Welcome to the Oscars," DeGeneres said. "For those of you watching around the world, it has been a tough couple of days for us here. It has been raining. We're fine. Thank you for your prayers," she added solemnly.
DeGeneres then went on to say that when she first hosted the Oscars seven years ago, actors such as Cate Blanchett, Meryl Streep and Leonardo DiCaprio were nominated. She noted, rather sarcastically, that nothing much has changed now as all three were once again nominees.
Her next jabs were aimed at Liza Minnelli, who turned up for the event in an electric blue suit and blue hair dye.
"I have to say, one of the most impressive Liza Minnelli impersonators I've seen in my life. Really, seriously, good job, sir," DeGeneres said to a not-so-amused Minnelli, who just managed a weak smile at the jab.
In the midst of her hosting duties, DeGeneres found time to take a selfie with the likes of Julia Roberts, Brad Pitt, Jennifer Lawrence, Kevin Spacey and Bradley Cooper, and since then the photo has been shared a million times.
DeGeneres even called out to Jared Leto, who won the best supporting actor award for his role as an HIV infected transgender in the movie "Dallas Buyers Club."
"Win or lose, you all look beautiful tonight. Sandy, you look beautiful And Cate, you look—everybody looks beautiful. I'm not going to say who looks the prettiest tonight, but it's clear. It's Jared Leto. He's the prettiest."
Jonah Hill, who flashed a prosthetic penis in "The Wolf of Wall Street" was also teased by the Oscars host who said that he "showed us something in that film that I haven't seen for a very long time."
Jennifer Lawrence, who once again tripped on the red carpet, was also not spared. DeGeneres said if Lawrence was to win again this year, then her award would be brought to her so that she does not fall on her way to collect the honor.
"If you win tonight, I think we should bring you the Oscar," DeGeneres said as Lawrence and other stars burst into laughter.
She also brought in a pizza delivery man into the auditorium and directed film producer Harvey Weinstein to tip the delivery man.
"No pressure, only a billion people are watching, whatever you feel is right," she told Weinstein.