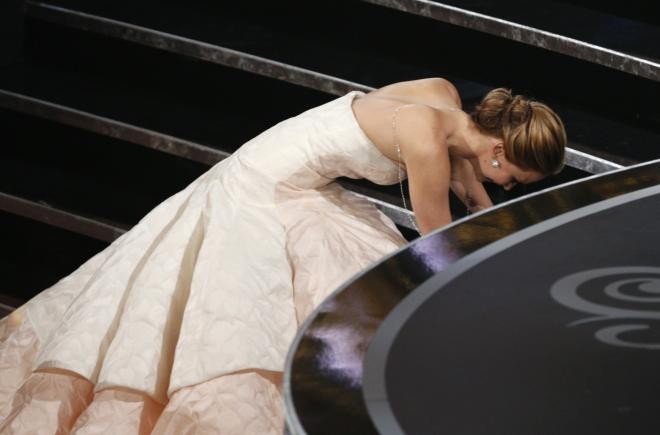 Blame it on her over-excitement or the voluminous Christian Dior gown for the embarrassing fall in front of a huge audience at the Oscars 2013 ceremony on Sunday, actress Jennifer Lawrence still managed to make the fall appear graceful.
Jennifer Lawrence looked visibly stunned when she was announced winner of the Best Actress award. Looking gorgeous in her virgin pink gown, the 22-year-old actress suffered an unpredictable moment on the staircase while she was making her way to the stage.
She remained on the steps for a moment, probably laughing at herself for the slip, and got back on her feet before Hugh Jackman tried to rush in to help her.
"You guys are just standing up because you feel bad that I fell and that's embarrassing, but thank you," started off Lawrence after accepting the Oscar from French actor Jean Dujardin. She went on to thank her family and her team.
Lawrence won the Best Actress Oscar at the 85th Academy Awards ceremony for her performance in David O. Russell's movie, "Silver Linings Playbook." She beat Jessica Chastain ("Zero Dark Thirty"), Emmanuelle Riva ("Amour"), Quvenzhane Wallis ("Beasts of the Southern Wild") and Naomi Watts ("The Impossible") to win one of the most-sought-after awards.
Meanwhile, Daniel Day Lewis bagged the Best Actor award for his role in "Lincoln". Ben Affleck's Iran rescue thriller "Argo" won the trophy for the Best Picture while Ang Lee bagged one for Best Director.