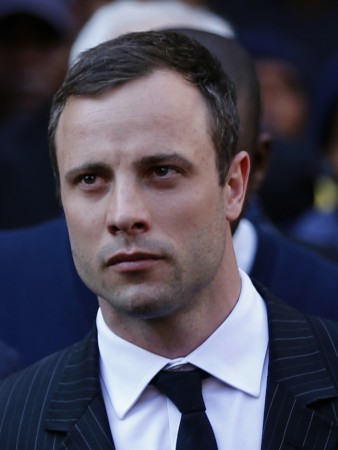 Some of the witnesses in the trial of Oscar Pistorius, the Olympian who has been accused of shooting his girlfriend Reeva Steenkamp on Valentine's Day 2013, are displeased with the way they were treated on the witness stand in one of the most high-profile trial cases in South Africa.
Pistorius' former Pretoria home neighbour Annette Stipp described her experience on the witness stand as "emotional, daunting and exhausting," and she told Karen Tewson, head of court preparation at the National Prosecuting Authority, that she felt as if was being personally attacked by Pistorius' lawyer, reports said.
"You feel you are being attacked personally. Your integrity is questioned. We felt that [we] were being attacked as [liars]," Stipp told Tewson, whose research paper focuses on how witnesses are often traumatised and suffer "secondary victimisation on the witness stand," according to South Africa's Times newspaper.
During her time on the witness stand Stipp, who testified that she heard a woman scream on the morning of the murder, had to endure the tongue-lashing of Pistorius' defence team, who were harsh in their cross examining.
Pistorius's advocate Barry Roux described the testimonies of Stipp and her husband Johan's as "exaggerated and contradictory … creates doubt as to [their] reliability".
Another neighbour and witness, Charl Johnson, whose wife Michelle Burger had to endure Roux's gruelling cross-examining after she admitted to hearing "bloodcurdling screams" on the night the blade runner shot his girlfriend dead, too isn't happy with the way the defence treated them.
He told the Guardian that he hoped their experience wouldn't deter future witnesses from coming forward to do what they believe is right.
"My wish is that people are not discouraged," he said. "It's not a pleasurable experience but one's got to do what one feels is the right thing."
Meanwhile, Roger Dixon, an expert witness for the defence, told the Guardian: "For the layman, it can be very traumatic to stand up there. You're not just getting questioned on your personal knowledge but on yourself. The system we have tries to break down your evidence and, if it can't do that, it tries to break you. After six days in the box, you could see how Oscar Pistorius himself was getting confused."
He added: "I think it has coloured people's perception of what it's like to be a witness in a case, especially a high profile case with strong legal eagles. They are not going to spare you."
A verdict on the Steenkamp murder case is expected on 11 September.