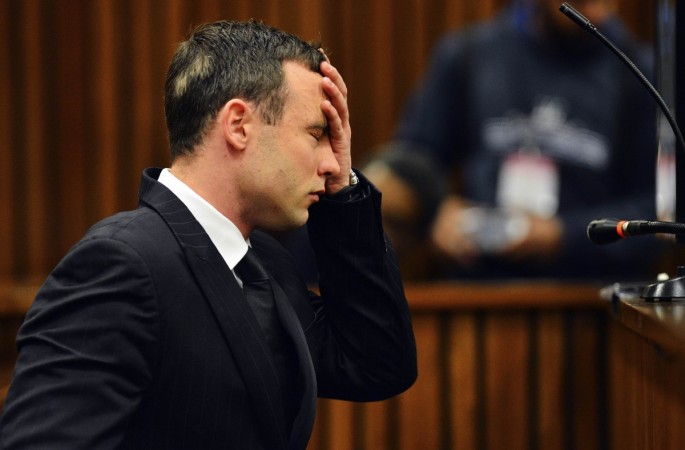 Oscar Pistorius was not suffering from any kind of mental problems when he shot dead his girlfriend Reeva Steenkamp on the Valentine's Day 2013, a report submitted in South African court reveals.
This comes as the murder trial of the Olympics gold medalist, resumed on Monday after a one-month delay to receive a mental evaluation after a witness claimed that he had been suffering from anxiety disorder.
His defence team has also been arguing that he had been suffering from the mental condition at the time of shooting.
The 27-year-old amputee, better known around the world as 'Blade Runner' for his carbon fiber running prosthetics, has denied deliberately shooting his 29-year-old girlfriend and South African model, Steenkamp through the closed toilet door of his home in Pretoria.
He has been arguing that he mistook his girlfriend for a dangerous intruder and realized he had shot her only after the incident.
During Monday's court proceedings, Judge Thokozile Masipa received reports from a panel of one psychologist and three psychiatrists, who assessed Pistorius' mental condition and whether or not the double-amputee athlete was capable of understating the wrongfulness of the act.
The prosecutor Gerrie Nel, citing the report, has noted that the experts believed that Pistorius was "capable of appreciating the wrongfulness of his act" when he pulled the trigger on his girlfriend, ABC News reports.
The defence team on Monday also heard from Dr Gerry Versfeld, who amputated Pistorius' legs when he was only 11 months old – an incident that many argue might have impacted his behavior in the latter part of his life.
Born without fibulas in both of his legs, Pistorius fought against adversities, eventually becoming an Olympic champion and a household name. But the South African hero's triumph was short lived as he now stands trial for murdering his girlfriend—an event that will change his life forever, to say the least.
Monday's report comes after the 'fallen hero' underwent a month of tests as an outpatient at Weskoppies psychiatric hospital in Pretoria, after it was claimed that he was suffering from Generalized Anxiety Disorder (GAD).
Since there are no juries at trial in South Africa, the fate of the athlete will be ultimately decided by the judge.
If found guilty of murder, Pistorius could face life imprisonment. Or if he is acquitted of that charge, an alternative charge of 'culpable homicide', could send him behind bars for 15 years.