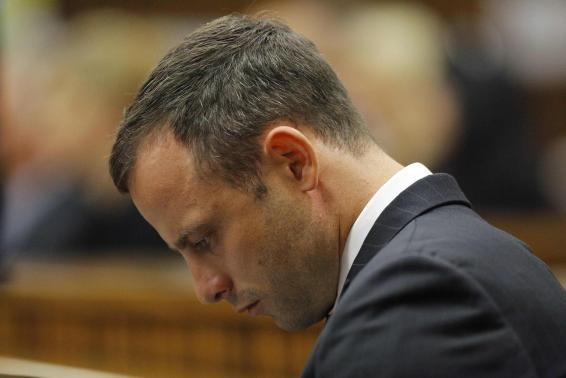 The mother of Reeva Steenkamp has said that Oscar Pistorius has not looked at her in the courtroom, even though she actually had a desire for the athlete to see her.
June Steenkamp told ITV News that the Paralympic "just walked straight and looked ahead" on the first day of the trial.
The highly anticipated trial of Oscar Pistorius, often referred to as the 'trial of the century' began on Monday. The six-time sprint champion has pleaded not guilty of murdering his girlfriend.
The 27-year-old faces murder charges for shooting his girlfriend dead, the 29-year-old South African model, Reeva Steenkamp on Valantine's Day last year.
The double amputee, better known around the world as the 'Blade Runner', has argued that Steenkamp's death was an accident and that he had mistaken her for an intruder breaking in his house from the toilet.
Reeva's mom has also explained that her husband Barry was unable to attend the opening of Pistorius' trial as he has been devastated, due to Reeva's death and he recently suffered a stroke due to stress.
"He could have never been there today. He could have probably collapsed, maybe had another stroke," she told the news channel.
"We just want the truth. We just want to know the truth. If it will come out, we don't know. What are my expectations? I just expect the truth to come out. I'm hoping the truth will come out. Whatever it may be," she added. She also said that she was willing to forgive Pistorius.
On Tuesday, a second witness told the court that she was awoken by the shouts of a fight on the day Reeva was shot dead. Estelle Van Der Merwe, the neighbor said that the brawl had lasted for about an hour. This could be a crucial indication for the prosecutors to 'prove' that the murder could have been premeditated.
This is the first time in South African history that parts of a trial are being televised live, although some witness testimony such as that of Van Der Merwe could only be heard through audio that was aired.
On Tuesday, when the South African court heard grisly details of the killing of Reeva, Pistorius buried his head in his hands and wiped away tears in what is called as the first sign of emotion from the track star.
Judge Thokozile Masipa in the Pretoria Court , who is known to have passed strong judgement in the past, now has the daunting task of deciding whether Pistorius is saying the truth or the murder was premeditated.